Bruno Zee, sailor, adventurer, rebel and mutineer, and our first Zee ancestor, was born in Bollen, near Bremen, in 1697, as Brüne Seekamp. He changed his surname to Zee, but what do we know about his birthplace and family?
Bollen is one of a handful of small villages around Clüverswerder, a small area around a lake that is the genesis of the still-quite-large Seekamp family. It was here in 1481 that Hinrich Seekamp first took the surname, which means Lake-Field.
Bollen itself dates back to the year 1111, and the Seekamp family has been documented here since at least 1482 when Johann Seekamp was baptised.
Thanks to a lifetimes work by Heinz Früchtenicht, the genealogy of families in Bollen is well documented through his OFB (Ortsfamilienbuch, or Village Family Book) of Achim-Bollen. The source for this OFB is primarily the Church records of Arbergen – and it seems we're lucky to have these, as they have been on a journey of their own. After World War II, most Bremen area records ended up in a mine in central Germany, later being transferred to Potsdam in the East German DDR. The Arbergen records however, for some reason, continued their travels to Moscow, and only after the collapse of the Soviet Union did they appear again, and were returned to Germany.
The very early Seekamps
Full article: read The first Seekamps and their journey from Clüverswerder: This traces the origins of the Seekamp family in Clüverswerder, looks at surrounding villages like Bollen, Arbergen, Uphusen, as well as Bremen, and lists the first Seekamps recorded.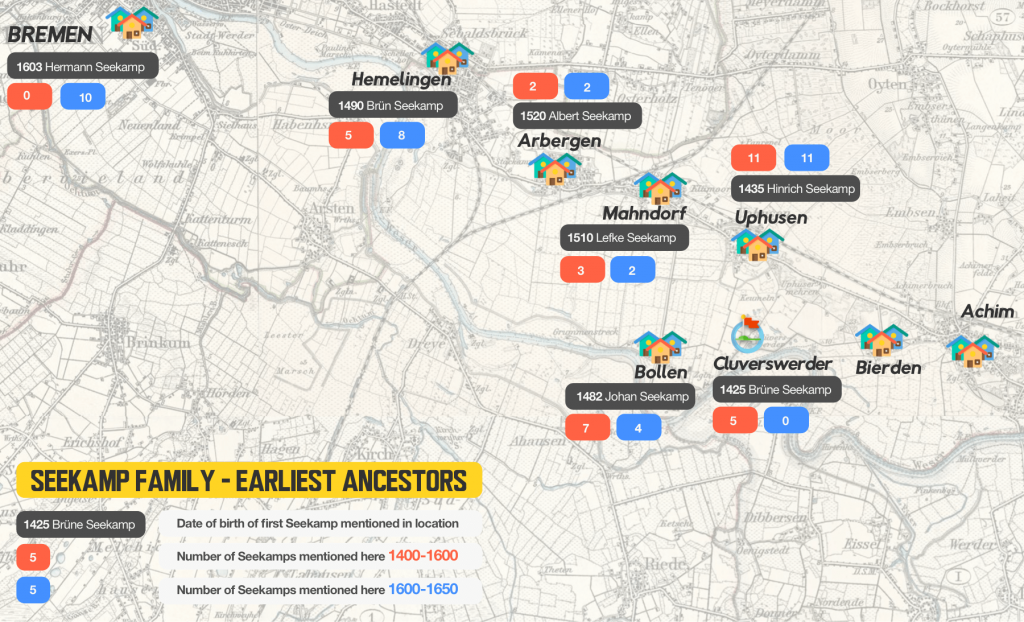 The forefathers of Bruno Zee
Bruno Zee (Seekamp), born 1697 Bollen
His father: Bösche Seekamp, born 12-Feb-1669 Bollen, x Trine Eggers, died 13-Jan-1742 Bollen
His grandfather: Brüne Seekamp, born 1641 Bierden, x Beke Struckhusen, brother Wöltje, died 1717 [>]
Great-grandfather: Wöltje Seekamp, born 1604, Bierden, x Gesche Dahlweg, brothers Brüning (1605), Albert (1610), Bauman in Bierden Hof 9 [HN], death unknown [>]
Great-great-grandfather: Harm Seekamp, born c. 1580 [>]

Lower confidence, but probable:

3rd-great-grandfather: Brüning Seekamp, born c. 1550, Bollen (?), Bauman in Bierden Hof 9, died after 1602
4th-great-grandfather: Johann Seekamp, born c. 1510, Bollen, Bauman in Bollen Hof 5.
5th-great-grandfather: Researching!