A long-lost shoebox of family photos surfaced in January 2021. It contained many treasured photos taken in the mid to late 1800's, and there's nothing quite like seeing the pictures of the ancestors we've been researching on this site.
The photo box is of the family and descendents of Pieter Zee (b. 1850) & Geertje Zijp. Pieter was the 10th child of Pieter Zee and Neeltje Veer, and the family lived in Twisk.

The couple had two children – Klaas Zee, born 1877, who married Trijntje Wijdenes and died in a lightning strike in 1900, and Pieter Zee, born 1881, who married Gezina de Graaf and emigrated to the USA.
The photos are added to the individual family member pages, but it's also interesting to view them as a whole series. Some have been digitally enhanced and colorized to bring them even more to life. Thanks to Jan Paul Zee for scanning these wonderful photographs!
Anna Hetterschij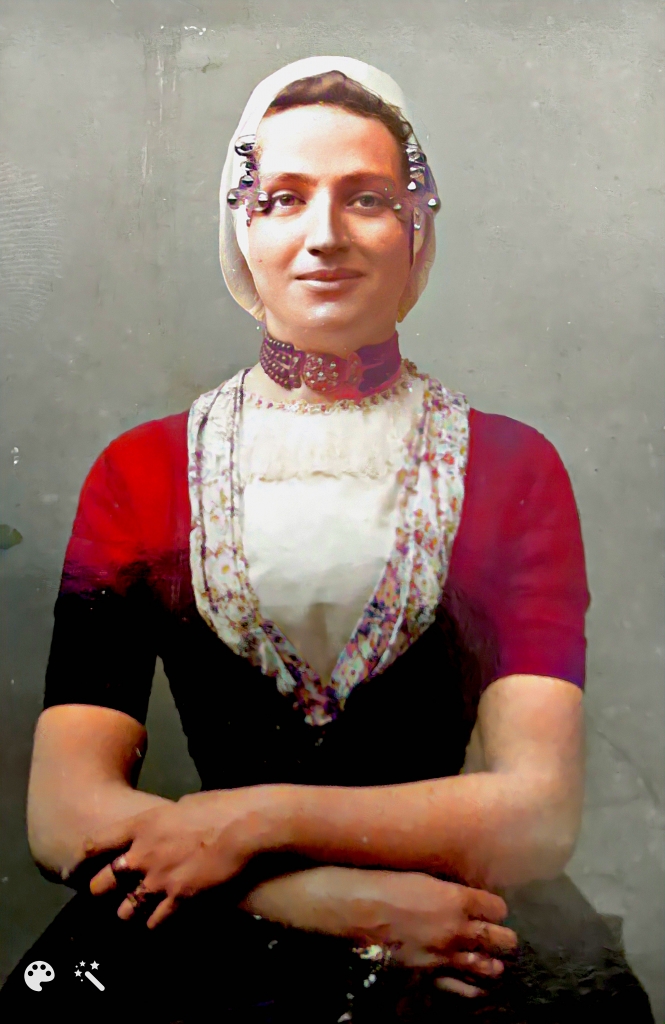 Anna was the mother of Johanna Reek, who married Klaas Cornelis Zee (b. 1900). This photo was taken in 1899, showing her clear fondness for jewelry and a unique personal style. Anna was born in 1872, and married Jan Reek.
Anna Reek-Hetterschij is from a former German noble family: Von Hetterscheid. They lived in a castle, named Hetterscheid, close to Essen (Knighthood of Kleef). Anna's mother was Judith Cornelia van Riemsdijk, and her father was Hendrik van Riemsdijk.
Hendrik van Riemsdijk is a son of Barend van Riemsdijk and Judich Adriana Salomons, who was Jewish -since that time it became possible to marry a jewish woman. Cornelis Salomons and Jenneke van den Oever were the parents of Judich Adriana Salomons, born 15-Mar-1787 in Zaltbommel. She died 23-Mar-1845 in Varik in N. Brabant, the Netherlands. She had 4 sons and one daughter. [Thanks to Pieter Zee, her grandson, for these details]
Maartje Stapel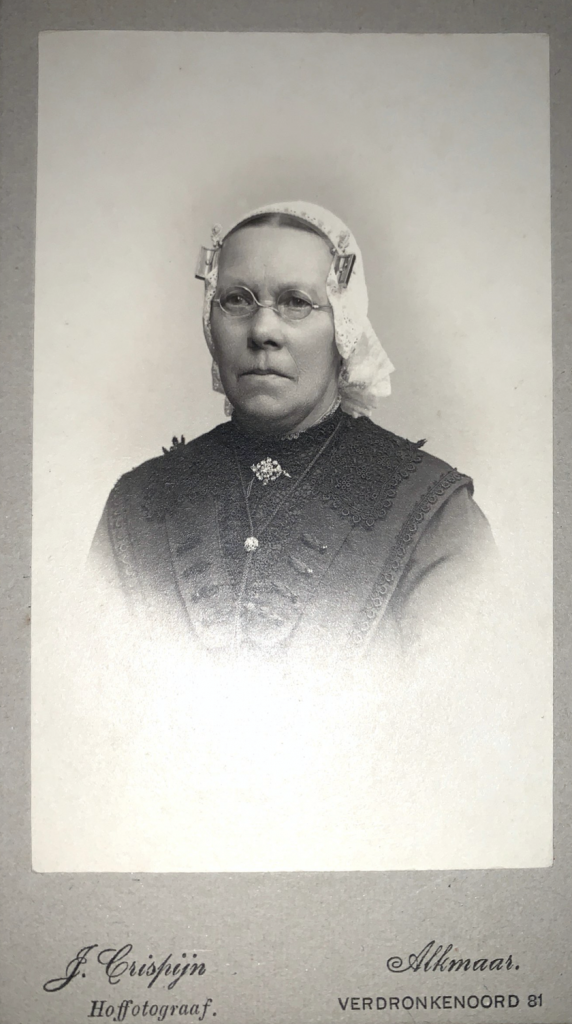 Maartje was the mother of Trijntje Wijdenes, who married Klaas Zee b. 1877. She was born in 1853, married Cornelis Wijdenes, also born 1853, seen below.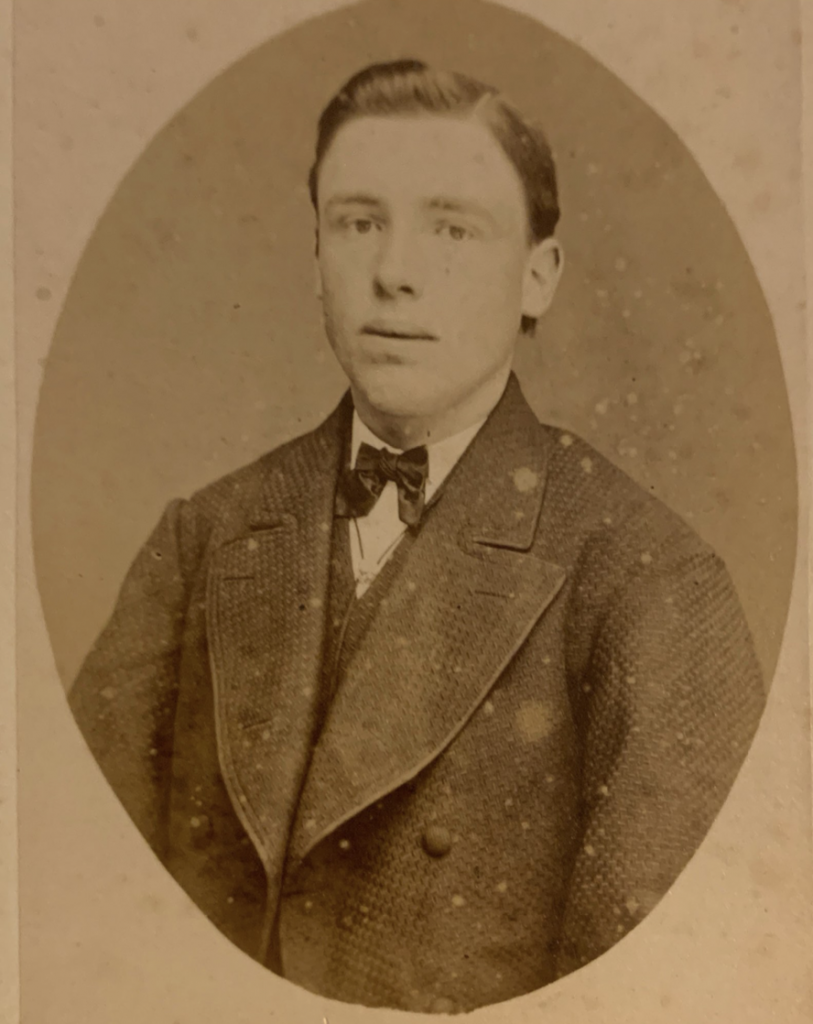 Neeltje Zee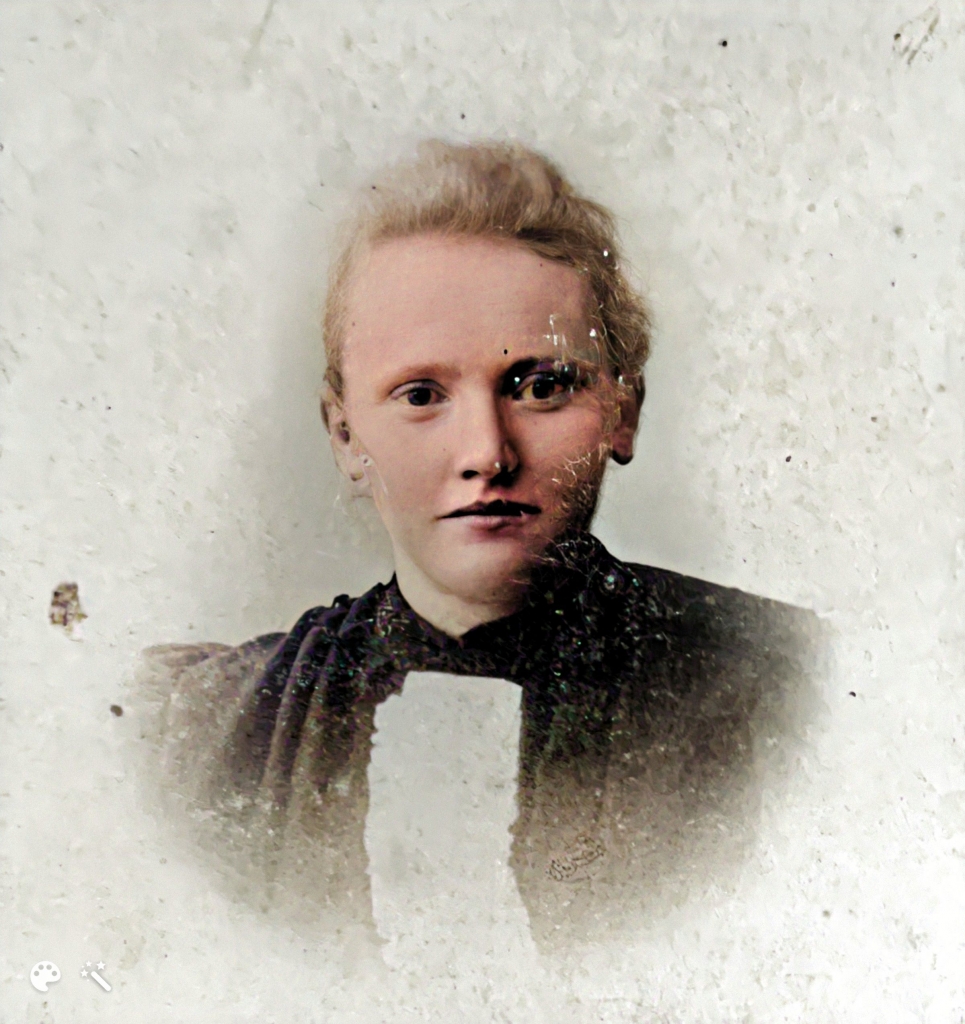 Neeltje was the daughter of Frederik Zee and Maartje Bakker. She took her own life in 1896. Her story is here.
Pieter Zee (x Geertje Zijp)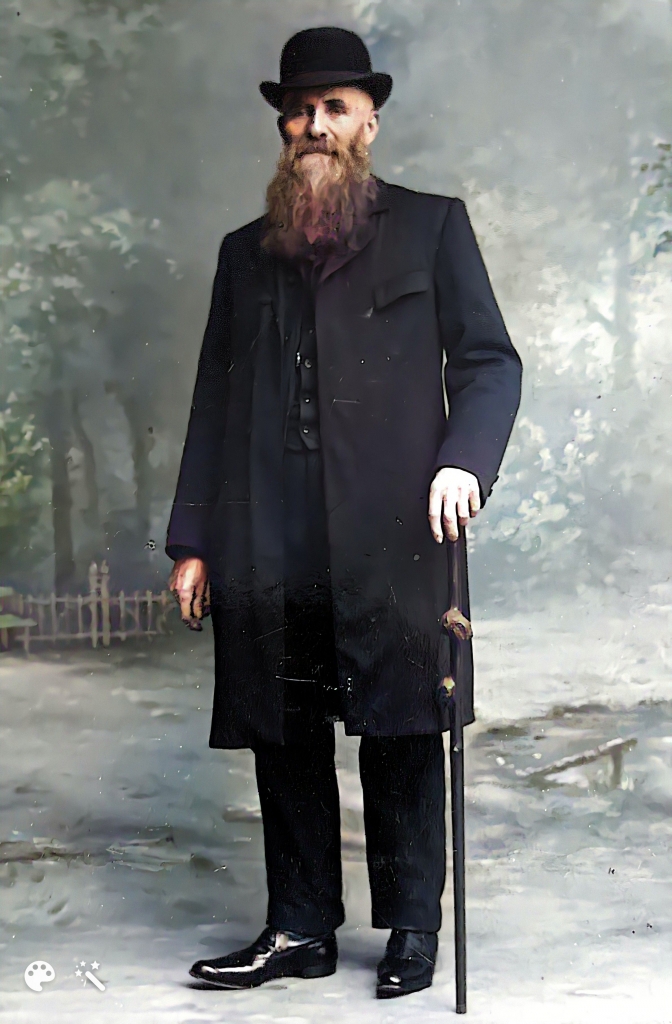 Pieter Zee was born in 1850, and married Geertje Zijp. The photo notes "Taken about 1910, probably shortly before his journey to Oregon, USA to visit his son Pieter". Photo by J. Huisen, Hoorn. His son, Pieter Zee, who married Gezina de Graaf, had emigrated to Westfall, Oregon, in 1906. The "California Zee's" can all trace their heritage back to this couple. His picture follows.
Pieter Zee (x Gezina de Graaff)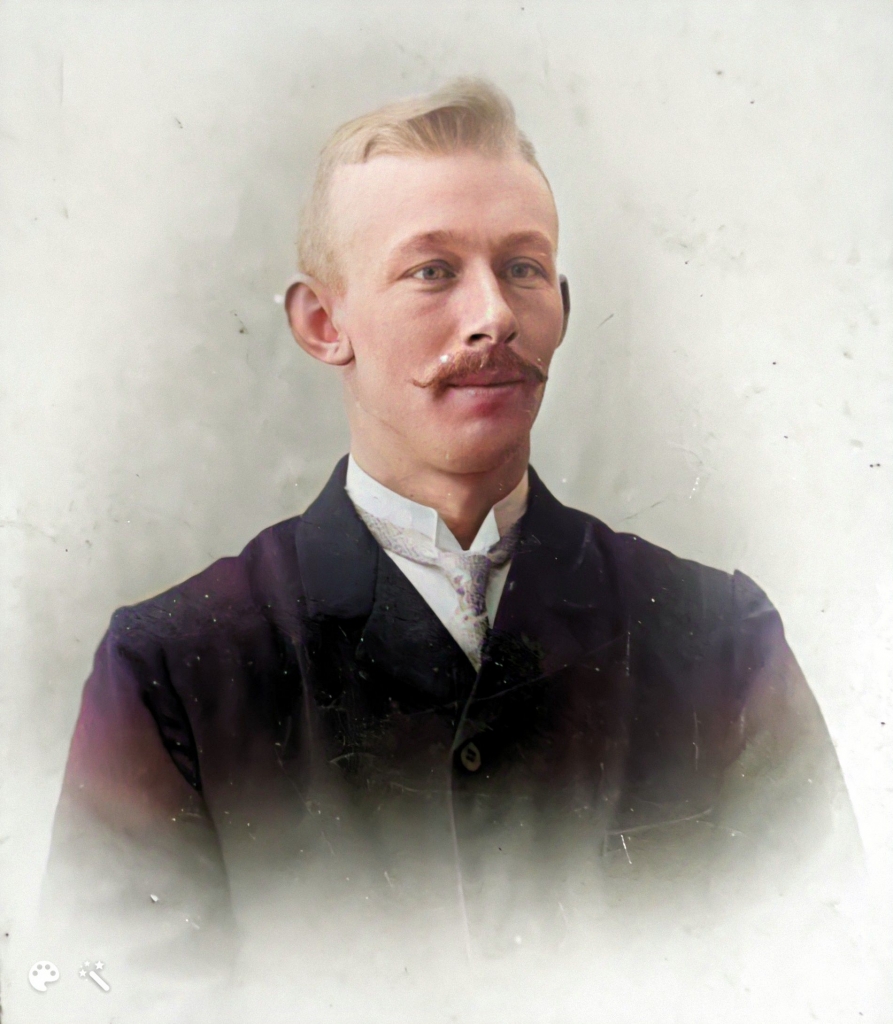 This picture of Pieter Zee b. 1881, was taken in Amsterdam, estimated c. 1905, before he emigrated to Oregon, US.
Geertje Zijp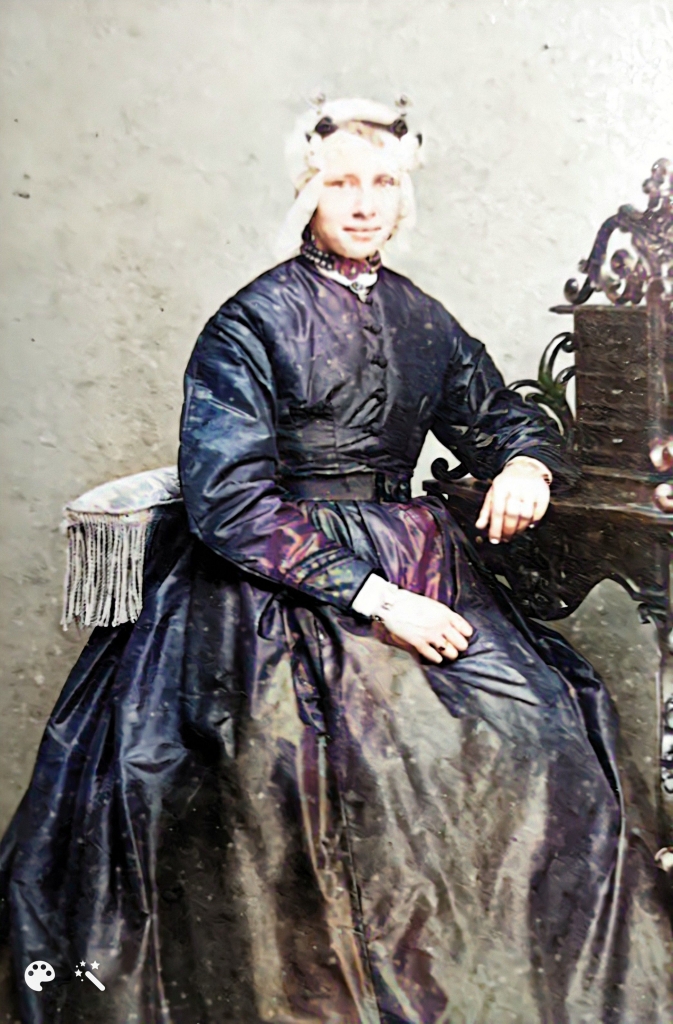 Wife of Pieter Zee b. 1850, and mother of Klaas Zee b. 1877 and Pieter Zee b. 1881. She was born in 1854 in Hoogwoud, and died at the young age of 42 in 1896.
Klaas Zijp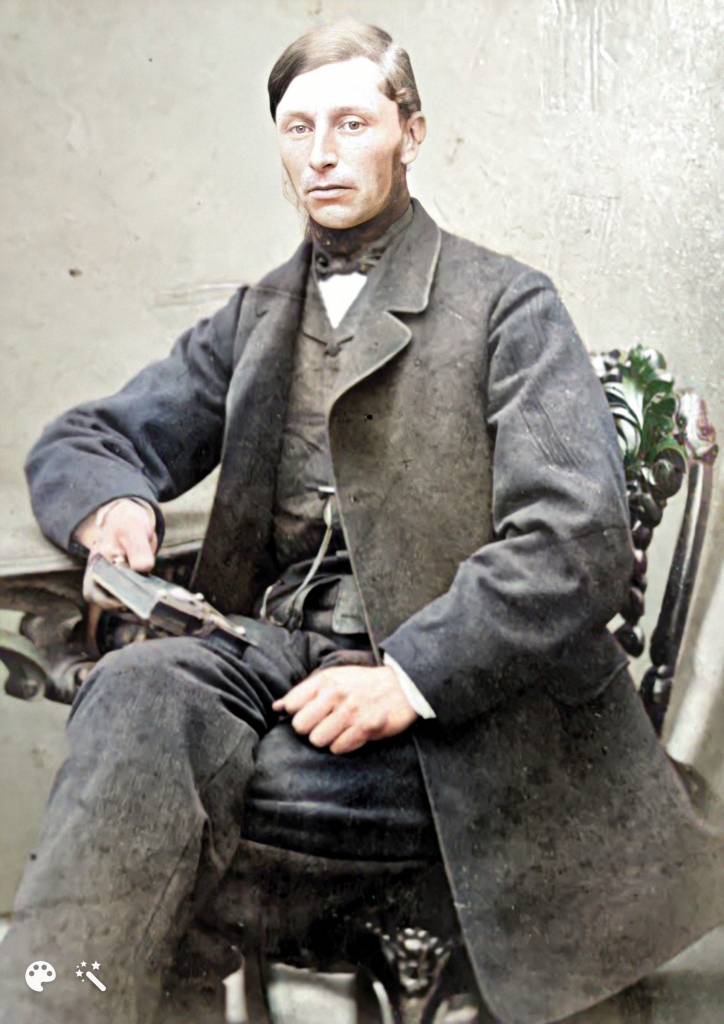 This is Geertje's father Klaas, who died in 1868 at aged 36. The photo is likely taken just before his death, maybe c. 1865.
J. Zee – a mystery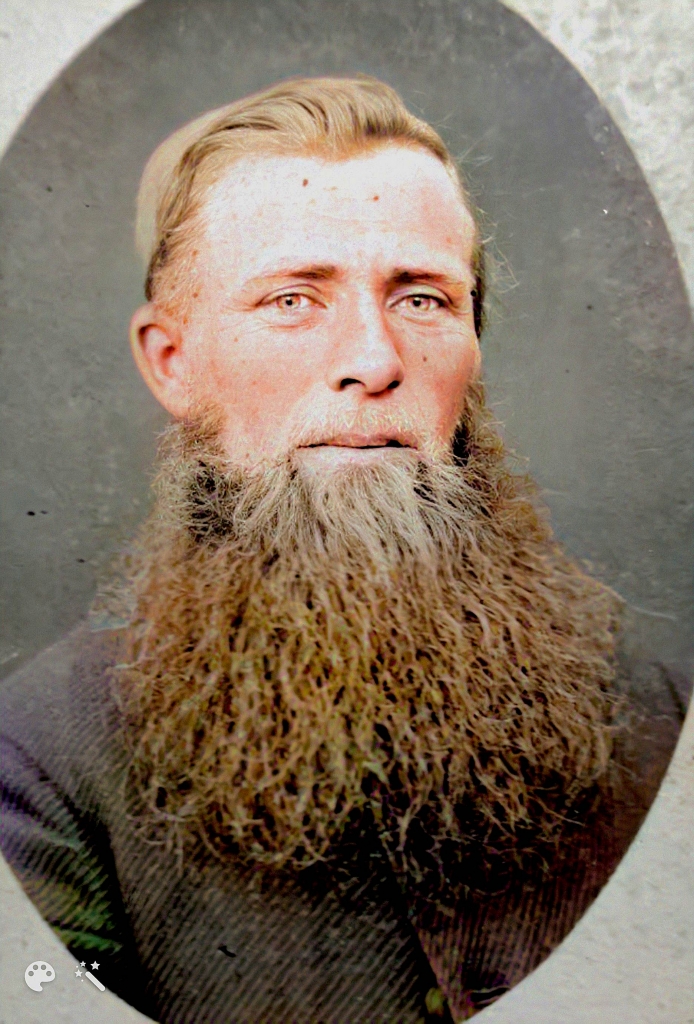 This J. Zee is a mystery for now. Photo taken by G.D. Siewers, Hoorn. On the back of the photo it's simply marked like this:

If that's a "J" and not an "F", then it can only be a Jan Zee. Most likely perhaps, is Jan Zee, born 1870, son of Frederik Zee and Maartje Bakker. It could also be Jan Zee born 1837, son of Pieter Zee & Neeltje Veer. A guess of the year taken based on the photo card would be closer to 1900 than 1860, so the first guess is probably right.
A fine beard in any case.
More to come!