The Belgian Campaign
In 1831, Pieter was selected to join the Dutch Army, and joined the cavalry in a regiment called the Ligte Dragonders No. 5.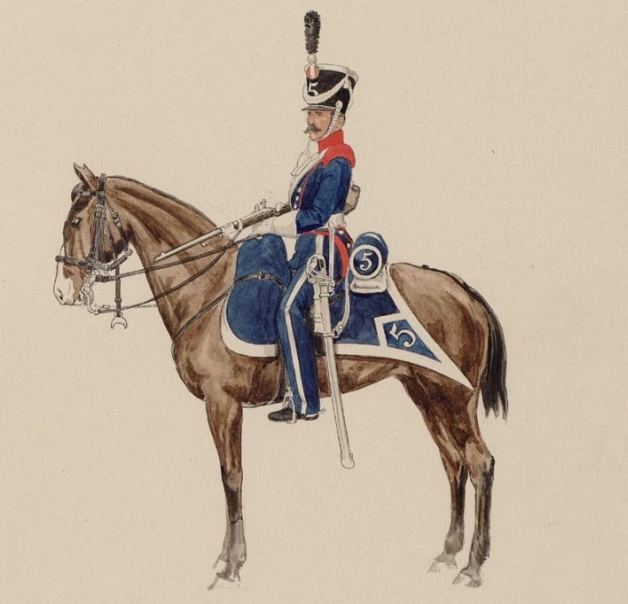 The selection was a lottery of sorts: available men in Holland were divided into lot numbers, and when they were needed, a number was drawn. Pieter's lot was No. 9, and in 1831, his number came up. He joined on March 12th, 1831. That August, he fought in the 10-day Belgian campaign. He remained in the army until 1834.
The military service record for Pieter Zee [>] tells us his full story.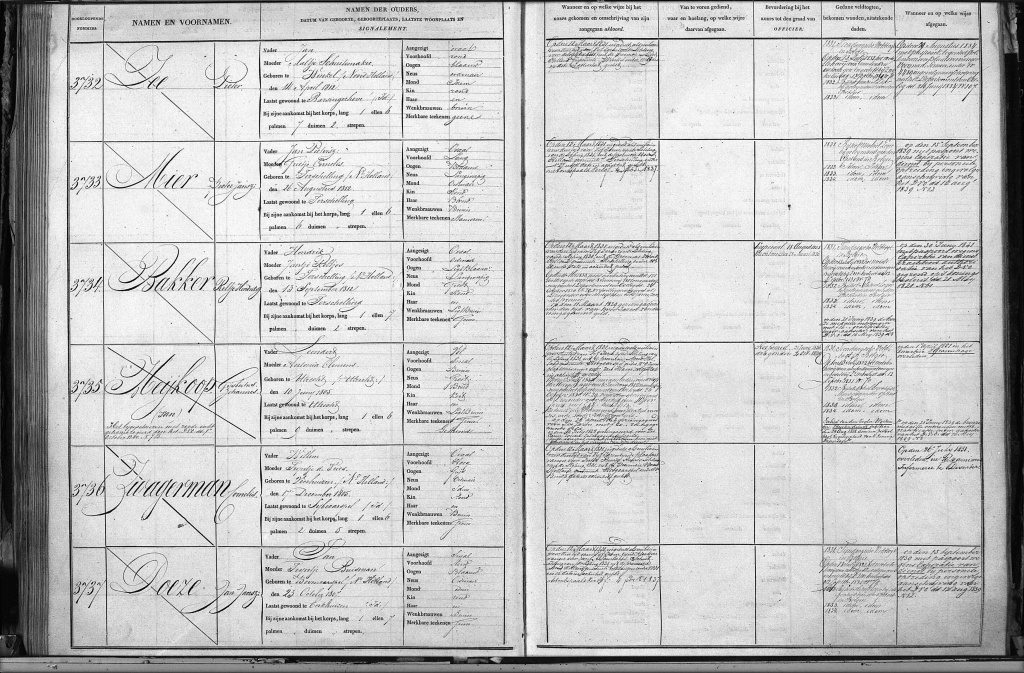 Wanneer en op welke wijze bij het korps gekomen en omschrijving van zijn aangegaan akkoord:
Op den 12. Maart 1831 ingedeelt als milicien voor den tijd van vijf jaren door zijnde Loteling voor de ligting 1831 uit de provincie Noord Holland gemeente Winkel onder n 9 en op dato in activiteit gestelt.
In English: On the 12th March 1831 classified as conscripted military for the time of 5 years because he is "Loteling" for the year 1831 from the province Noord Holland gemeente Winkel under number 9 and on this day in active duty.
Gedane veldtogten, bekomen wonden, uitstekende daden:
1831, Tiendaagse Veldtogt in België
Op den 13. July 1832 het meta ?? Van aandenken ontvangen.
Ingesteld bij ZnV besluit 12 september 1831
1832 bij het mobiel leger hij gelegenheid van den opstand
1833 idem, idem
Completed campaigns, Injuries received, Exceptional deeds:
1831, 10 days campaign in Belgium
On the 13th of July 1832 the meta ?? Of remembrance received.
Set bij ZnV decided 12 september 1831
1832 joined the mobile army at the occasion of the uprising
1833 same, same
Wanneer en op welke wijze afgegaan:
Op den 29 Augustus 1834 met paspoort tegen het stellen van een plaatsvervanger Voerman, Simon onder N 4489 ingevolge aanschrijving van het Departement van Oorlog tel: 26 juni 1834 N 107
When and how left:
On the 29th of August 1834 with pasport against a substitute Voerman, Simon under N 4489 as a result of a letter from the War Department log tel: 26 june 1834 N 107
Medal
In the year following the Belgian campaign, Pieter was presented with the medal below, which he's wearing proudly some fifty years later, pictured with his wife Neeltje.
A book from 1831, tells more about the events of the Belgian Campaign that Pieter took part in [>].
"Dit blijvend bewijs van aandenken bestaat in een kruis, vervaardigd uit het, in het gevecht bij Hasselt op den 8 Augustus 1831, veroverde geschut. Op de voorzijde van dit kruis is gesteld eene gekroonde W, te midden van een krans van lauwerbladen en eiken loof. De keerzijde is versierd met de woorden: Trouw aan Koning en Vaderland, terwijl in het midden, tusschen een krans van lauwerbladen en eikenloof, de jaargetallen 1830 en 183l zijn geplaatst. Boven dien is aan de voorzijde op de armen van het kruis het woord vrijwillig gesteld, voor de zoodanigen, die vrijwillig gedurende den oorlog Koning en Vader land hebben gediend."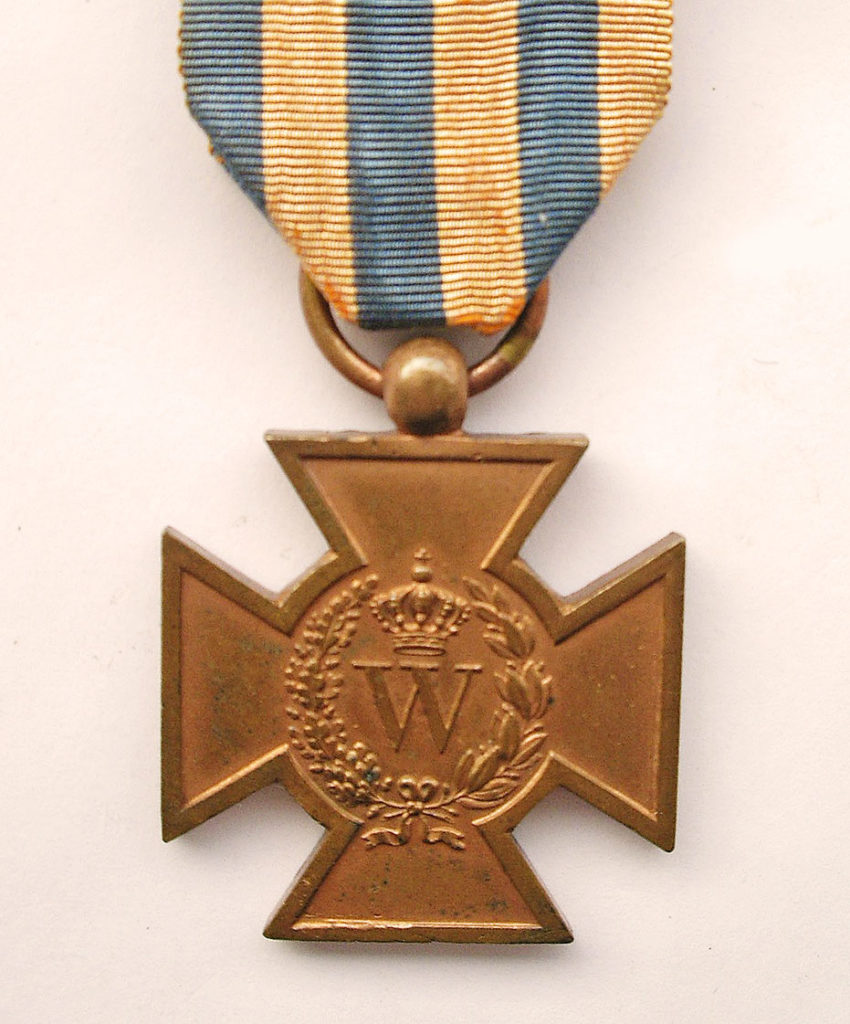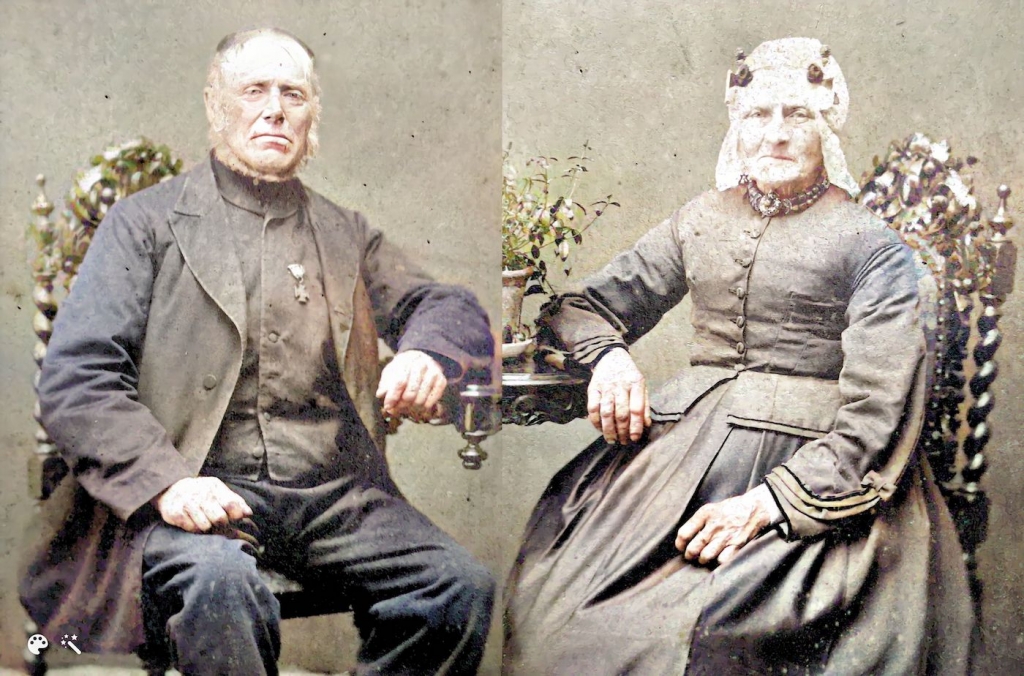 Jan Zee & Trijntje Bakker
Jan Zee was born February 12th, 1837, the second son of Pieter & Neelte. In 1859, his father Pieter signed the legal papers on his behalf to purchase a bakery in Abbekerk from Jan Kwantes. (He was 22, and considered "minderjarig" or underage). Jan became the first baker in the Zee family, a trade his nephew Pieter Zee (1876) would also take up in 1897 in Midwoud. The bakery was purchased for a price of 2,500 guilders, together with 500 guilders worth of baking equipment. The sale was done by auction, in the "Bonte Paard" in Abbekerk. That Inn still exists in 2022, at Dorpsstraat 54 in Abbekerk, though it is soon to be demolished to make way for a number of houses.
A month later, Jan married, quite appropriately, Trijntje Bakker in Abbekerk. Trijntje was a sister of Maartje Bakker, who would later marry Jan's brother Frederik Zee in 1868. Both were daughters of Jan Bakker and Aagje Verweij. Their first child, Neeltje Zee, was born around a year later in Abbekerk, on January 27th, 1861. However, by 1863, the family was back in Twisk. Jan died in 1912 in Wognum.
Genealogy
(D) Pieter Zee
* 14-Apr-1812 Winkel [Jan Zee & Aaltje Schuitemaker]
+ 20-Sep-1881 Twisk
x Neeltje Veer 26-Oct-1834 Twisk
* 17-Mar-1811 Benningbroek [Cornelis Veer & Antje van Leeuwen]
+ 08-Sep-1888 Twisk aged 77

Children:
1 Cornelis   12-Aug-1835 Twisk     x Trijntje Grootewal, Maartje Pels
2 Jan        12-Feb-1837 Twisk     x Trijntje Bakker
3 Aaltje     28-Jul-1838 Twisk     x Klaas Bakker
4 Andries    25-Jan-1840 Twisk     + 10-Feb-1842 Twisk
5 Andries    29-Mar-1841 Twisk     x Neeltje Leeuw
6 Antje      18-Oct-1842 Twisk     x Jacob Duin
7 Jantje     19-Jul-1844 Twisk     + 14-Feb-1846 Twisk
8 Frederik   26-Aug-1845 Twisk     x Maartje Bakker
9 Jacob      27-Sep-1847 Twisk     x Maartje Haans
10 Pieter    23-Apr-1850 Twisk     x Geertje Zijp
11 Sijmon    05-Jul-1851 Twisk     + 04-Dec-1851 Twisk
12 Jantje    15-Jan-1853 Twisk     + 04-Feb-1854 Twisk


E2 Jan Zee
* 12-Feb-1837 Twisk [Pieter Zee & Neeltje Veer]
+ 07-Aug-1912 Wognum 
x Trijntje Bakker 28-Dec-1859 Abbekerk >
* 31-Oct-1839 Abbekerk > [Jan Bakker & Aagje Verweij]
+

Children:
1. Neeltje   27-Jan-1861 Abbekerk  x Hendrik Blokpoel >
2. Aagje     03-Jul-1862 Abbekerk  x Klaas Kistemaker >
3. Aaltje           1863 Twisk     x Pieter Bakker >
4. Pieter           1870 Twisk     + 08-Nov-1895 Hoogwoud


---

E3 Aaltje Zee
* 28-Jul-1838 Twisk
+ 
x Klaas Bakker 09-May-1858 Twisk
* c. 1835 Opperdoes [Pieter Bakker & Antje Lakeman]
+


---

E5 Andries Zee
* 29-Mar-1841 Twisk [Pieter Zee & Neeltje Veer]
+
x Neeltje Leeuw
*
Children:
1 Andries x Marijtje Spijker

see Andries Zee

---

(E10) Pieter Zee
* 23-Apr-1850 Twisk [Pieter Zee & Neeltje Veer]
+ 28-Jan-1926 Wijdenes
x Geertje Zijp 
* 30-Jan-1854 Hoogwoud [Klaas Zijp & Trijntje Spaans]
+ 03-Jun-1896 Twisk [>]
Children:
1 Klaas    15-Jun-1877 Twisk x Trijntje Wijdenes
2 Pieter   01-Sep-1881 Twisk x Gezina de Graaff

x (2) Antje Timmerman 29-Oct-1899 Nibbixwoud [>] 
* 17-Jan-1859 Zwaag [Pieter Timmerman & Dieuwertje de Graaff]
+ 15-Jun-1909 Twisk [>]

x (3) Antje Schermer 04-Jan-1912 Wijdenes [>]
* 1849 Nibbixwoud [Hendrik Schermer & Neeltje Druif]
+ 

Timeline
15-Mar-1829 Neeltje Veer Benningbroek: Lidmaat Herv Kerk Benningbroek
12-Mar-1831 Pieter Zee joined the Netherlands military, 5e Regiment Lichte Dragonders. Living Barsingerhorn. Height 1m67, 5ft5, blue eyes, brown eyebrows. [Military records >]
16-Nov-1833 Neeltje Veer moves from Benningbroek to Twisk. Father Cornelis had died in 1832. In 1834 (18-Aug) her mother Antje van Leeuwen moved to Berkhout. [LMR Benningbroek] Also LMR Twisk [>] Approx start date of appointment as midwife of Twisk.

04-Jul-1834 Pieter Zee arrives Twisk [LMR Twisk >]
29-Aug-1834 Pieter Zee discharged from the military, replacement Simon Voerman. [>]
26-Oct-1834 Marriage of Pieter Zee (bouwman) and Neeltje Veer (vroedvrouw/midwife), at Twisk. [>]
13-Feb-1837 Pieter Zee, Bouwman (Farmer), in birth reg. of son Jan Zee, witness Gerrit Nes, Jan Vroom. No address mentioned. [>]
25-Jan-1840 Pieter Zee living Twisk, Dorpsweg 79, birth of Andries Zee [>]
08-Feb-1840 Pieter Zee living Twisk, Dorpsweg 79, noted in reg. of death of son Andries, two weeks old [>]. Same address in 1845, birth of Frederik.
06-Jan-1843 Neeltje Veer, in testament of mother Antje van Leeuwen [>]. Antje van Leeuwen, winkelierster, living Benningbroek. Three daughters are inheritors - Neeltje, Maartje and Barber, as well as the children of her deceased daughter Ijtje Veer. She made a revised version in 1858 [>]
23-Apr-1850 Pieter Zee living Twisk, Dorpsweg 79, noted at birth of son Pieter, witness Dirk Klomp, Cees Zwaan.
05-Jul-1851 Pieter Zee living Twisk, Dorpsweg 82, as at birth of Sijmon [>]. So the move from 79 to 82 was between Apr 1850 and July 1851, and likely before the new register in 1850.
01-Jan-1850 -1860 Population register (first). Pieter Zee & Family, living Dorpsweg 82, also Reinoutje Timmerman (b 1803, died 1893, daughter of Cornelis Timmerman & Guurtje Langedijk). Neeltje Leeuw at No. 80, b. 1845. At 79, Adam Lak until 1853, then Arien Lak, then Klaas Bobeldijk 1857, later Cornelis Roggeveen until 1858. [>] 
04-Dec-1851 Pieter Zee living Twisk, Dorpsweg 82, noted in reg. of death of son Sijmon, 21 weeks [>] Same address for birth of Jantje, 15-Jan-1853.
14-Nov-1859 Pieter Zee, on behalf of his underage son Jan Zee, purchases a bakery in Abbekerk from Jan Kwantes for fl. 2250. The purchase includes a house set up as a bakery, a shed, and 500 guilders worth of bakery equipment. Kadaster Abbekerk C128. >

05-Jan-1860 Boedelinventaris of Antje van Leeuwen, Neeltje's mother [>].
01-Jan-1861 -1879 Population register. Pieter Zee & Family, living Dorpsweg 87, also Maartje Nes (b. 1828). Living at 82 is now Jan Baas & Maartje Kistemaker. In 1869, No. 87 becomes occupied by Pieter Kalf & Antje de Nies. Two doors down at No. 85 is Dirk Leeuw & Else Kort; with Andries Zee & Neeltje Leeuw living there, and on 21-Feb-1868 their son Pieter Zee. 117 no mention of Pieter Zee, so move there after 1879. 10-Apr-1862 Cornelis Zee & Maartje Pels move in to No. 90, until 30-Apr-1870. [>]
       1867 Op een adres van eenige arme ingezetenen van Abbekerk, zich beklagende dat, na het vertrek van den geneesheer Timmermans, de verloskundige armen-praktijk aan een genees-, heel- en verloskundige te Twisk was opgedragen, adviseerde de adjunct-inspecteur den Commissaris des Konings, dat de klagten der adressanten hem, wegens den aanmerkelijken afstand van Twisk, voorkwamen zeer gegrond te zijn, en hij wenschen zou dat het gemeentebestuur van Abbekei k aldaar eene vroedvrouw aanstelde. Het gevolg is alleen geweest dat de Raad van Abbekerk, nevens den genees-kundige te Twisk, ook de vroedvrouw aldaar met de verloskundige armen-praktijk belast heeft. [>]
01-Jan-1879 -1892 Population register. Pieter Zee & Family, living Dorpsweg 117, also Maartje Nes. On 26-Jan-1886 Andries Zee becomes the head of the property at 117, with Neeltje Leeuw, with family listed. At 116 is living Gerrit Nes & Dieuwertje Ham.  [>]
21-Sep-1881 Death Cert of Pieter Zee, died in the house in Twisk No. 117 or 170 (unclear, 117 makes more sense).
08-Sep-1888 Death of Neeltje Veer, died at House Nr. 115.

Continuing the house search

05-Feb-1892 Neeltje Leeuw, wife of Andries Zee, dies, huis Nr 115. [>]
1893-1900 Andries Zee (

not

 Neeltje Leeuw), now reg. at Nr. 115 Kom. In 1895, went to Nr. 148. In 1893, at 117 is living Arien Wurkum. [BvR 1893-]
1900-1903 K60: Maarten Zijp & Antje Bakker. K79A: Jan Bregger & Jantje Spaans, K79/3:Klaas Zwier, & various, K80: Cornelis Zijp & Aafje Spaander.
1903-1909 W2 Cornelis Zee. West number go to about 40, then starts at K1. K60: Maarten Zijp & Antje Bakker. K79: From Jan 1904, Jan Bregger & Jantje Spaans. Next K79 missing. K82: Herman Konrad Schenke & Grietje Kuin(?). K115: Klaas Wonder & Jannetje Kool. K117: Only Aaltje Zee, arrived 1905 from Abbekerk, x Pieter Kwantes (?). 
[>]

Jan Zee & Trijntje Bakker

31-Oct-1839 Trijntje Bakker born, in house Abbekerk No. 16 
28-Dec-1859 Jan Zee at marriage. Broodbakker (in Twisk). >
31-Dec-1859 Jan Zee & Trijntje Bakker move to House Nr. 55 in Abbekerk. >
       1862 Jan Zee & family living Abbekerk Wijk A Nr. 42 >
30-Apr-1864 Jan & family move back to Twisk >. Jan still broodbakker.
03-Apr-1890 Jan Zee takes out a mortgage for fl. 7000 in Hoogwoud >
08-Nov-1895 Their son Pieter Zee dies aged 15, in Hoogwoud on the Langereis. Cause of death not mentioned.




Photos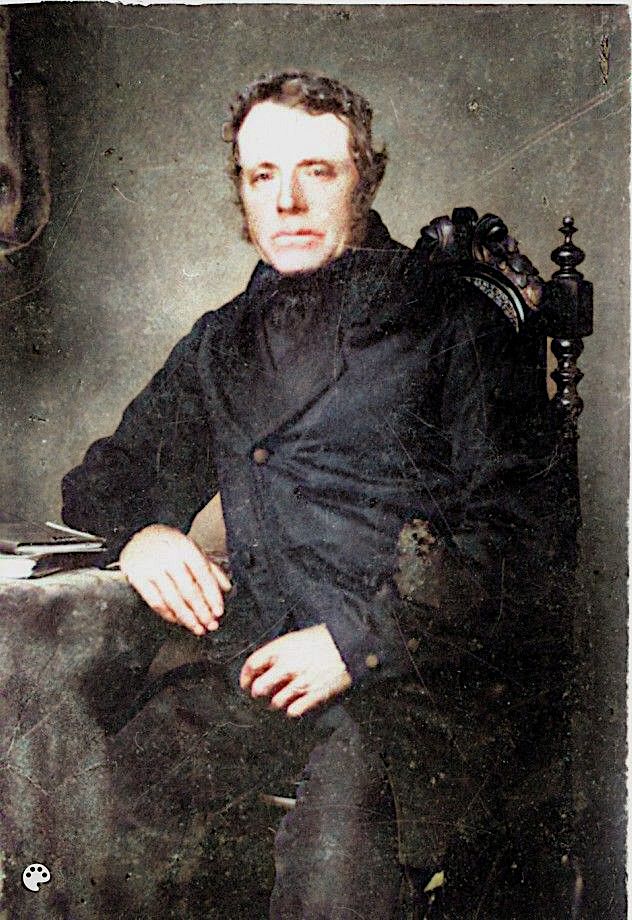 Documents