Story
Andries was born in Twisk in 1841 and married Neeltje Leeuw in 1847. The name Andries, which appears for the first time here in the Zee family, came from his mothers grandfather, Andries van Leeuwen, born in 1755.
Andries died in 1913, the advertisement below shows some of the property he owned in Twisk – two houses, and two plots of land in the Bennemeer and in Opperdoes.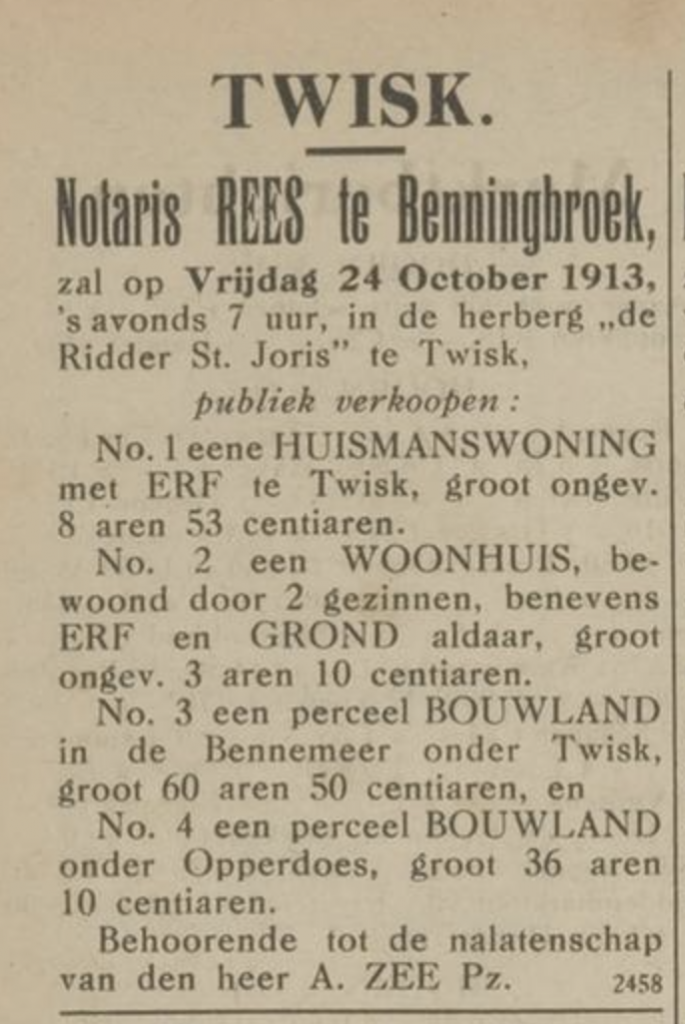 Family
They had three sons: Pieter (married Grietje Koorn), Dirk (married Antje Nes), and Andries Zee, who married Marijtje Spijker and owned "De Hoop" cafe in Twisk.
Gallery: Andries Zee's writing in 1852
Andries Zee's exercise book, apparently for handwriting practice, from 1852 – "den 9 January Anno 1852". The original is preserved in the Westfries Archief.
Andries Zee (1881) & Marijtje Spijker
Andries Zee jr., born 1881, married Marijtje Spijker in 1911. She was from the well known (in Twisk, at least) windmill family the Spijkers, who since 1861 had owned and run the Bennemeer windmill. The windmill was demolished in 1925, when it was replaced by a small electrical pump. Her parents were Chris Spijker and Lijp Hemme, who after moving out of the windmill in 1911, sold milk and karnemelk in Twisk for forty years. Lijp always wore her Westfries hat.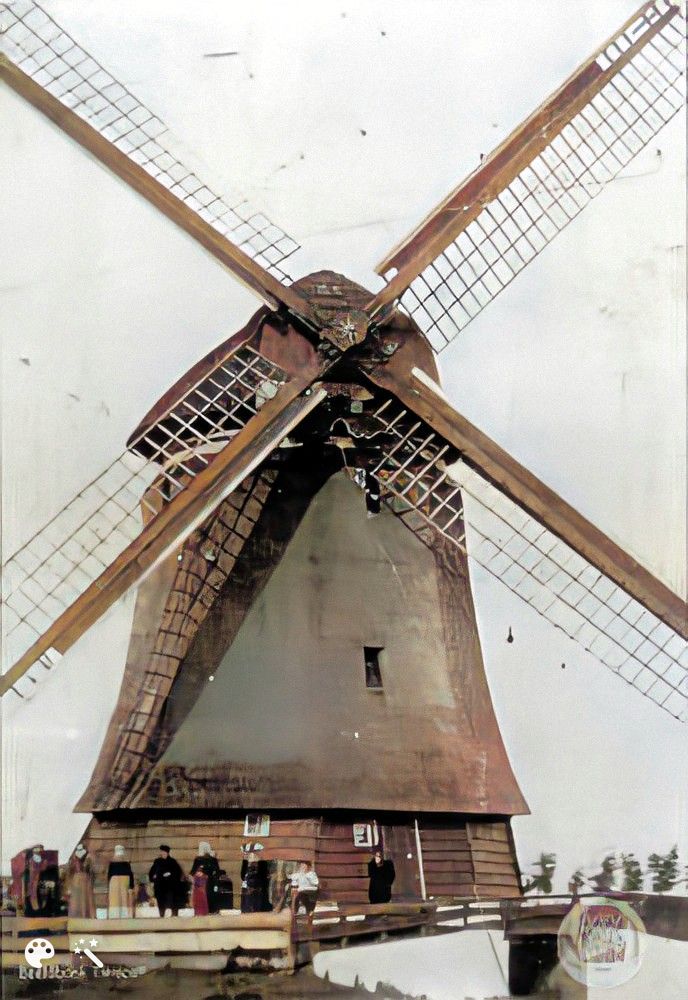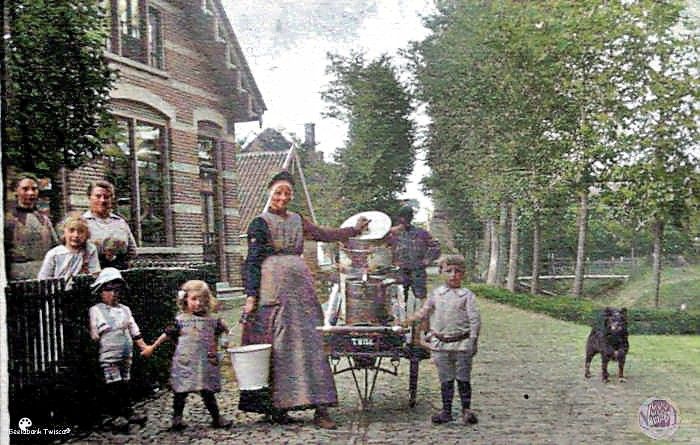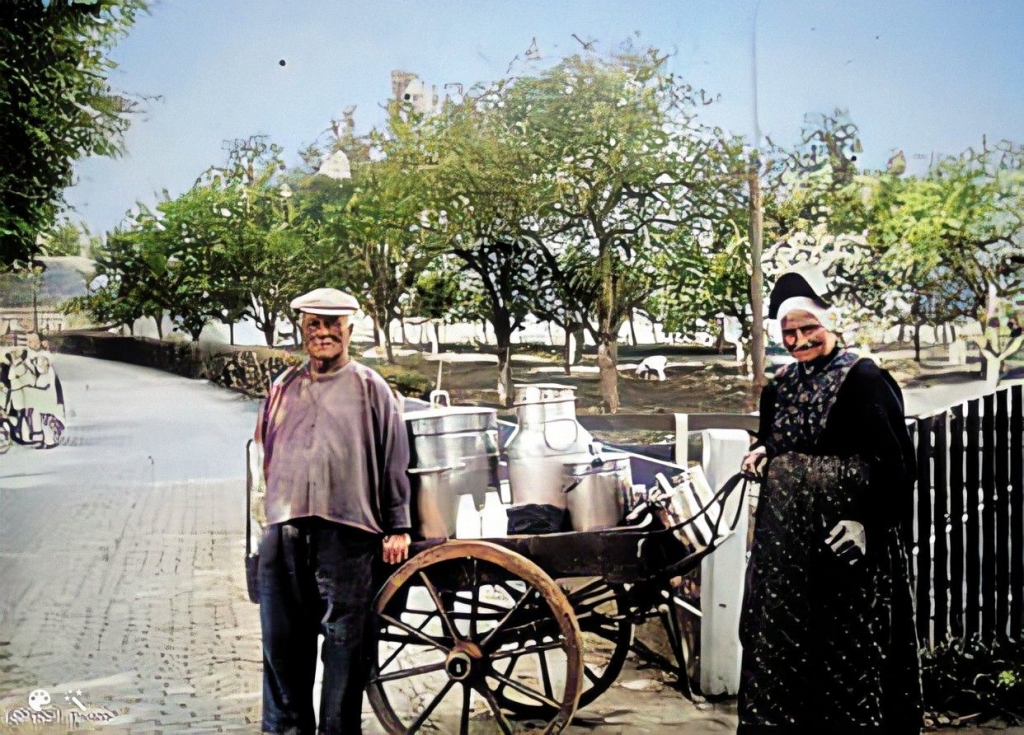 When Dries and Marijtje were married, they ran a cafe in Twisk called "De Hoop", at Nr. K70, Twisk. The cafe stood until 1949 when it became a school. Dries wanted to become an agricultural engineer, but his father (also Dries Zee) did not think this a worthwhile endeavour. And so it seems Dries rebelled against the idea of farming, and instead spent his inheritance to buy this saloon in Twisk, which he seemed to enjoy. In 1932 he became one of the overseers of the Wieringermeer drainage project. On July 25th, 1936, this led to his death as the result of an accident.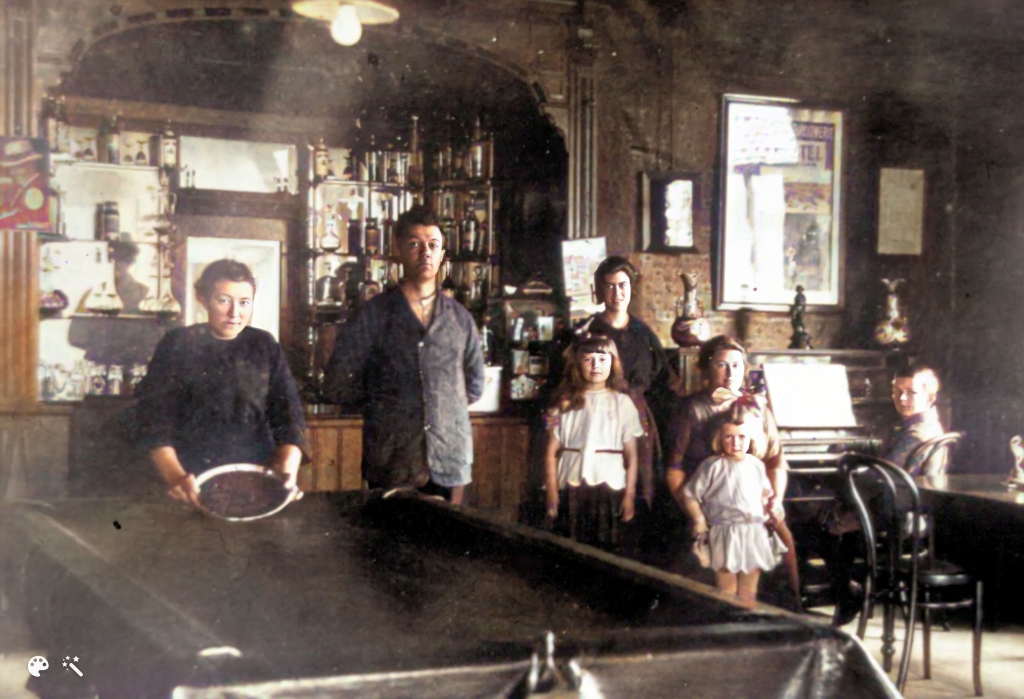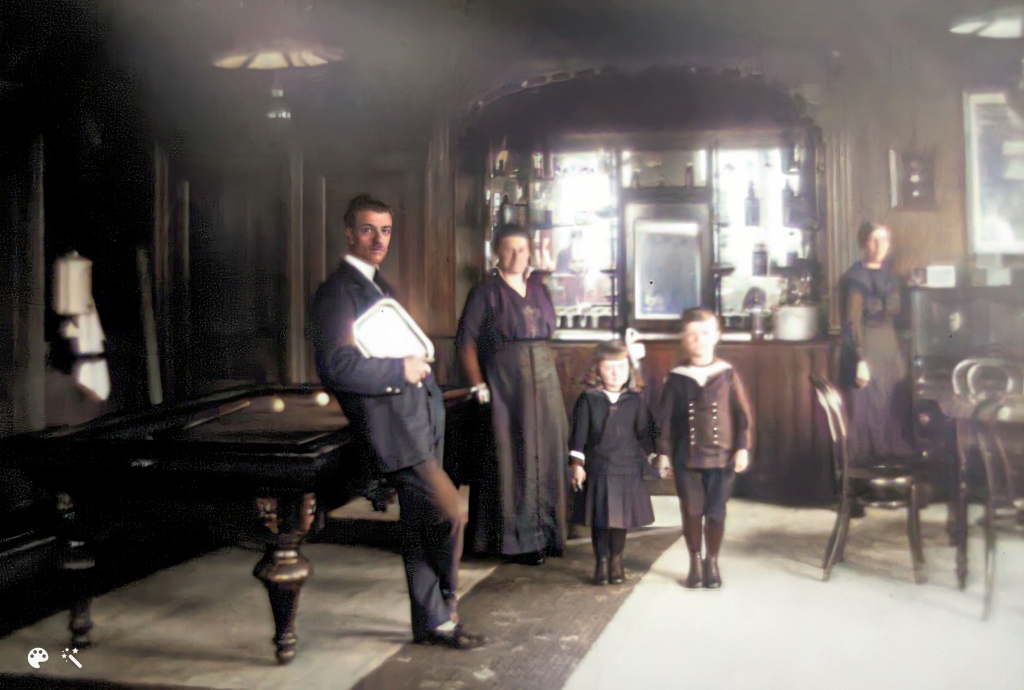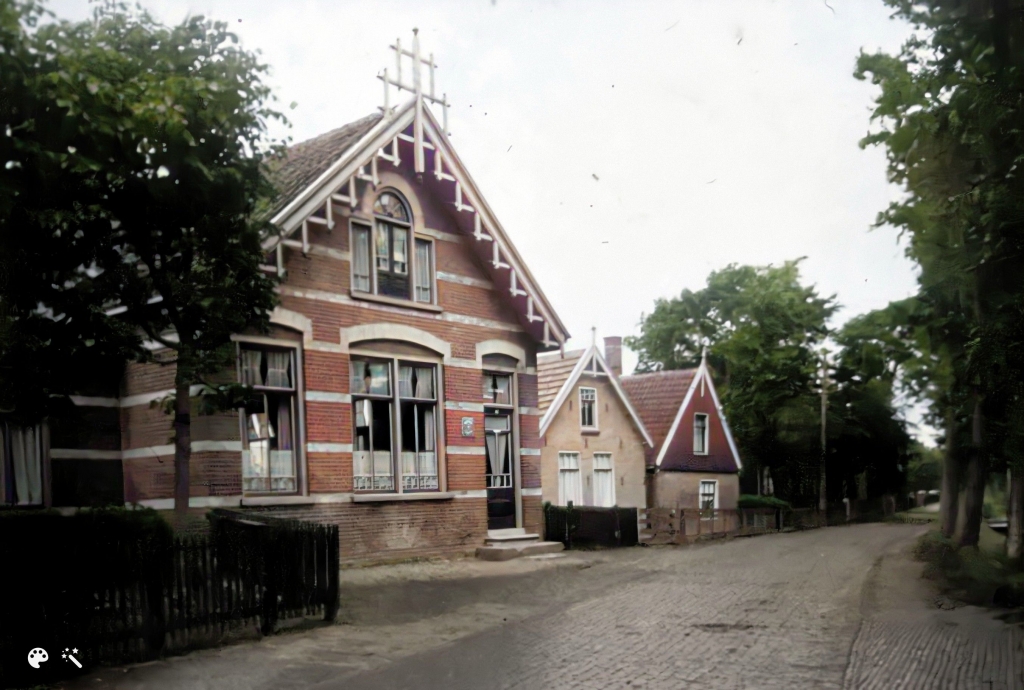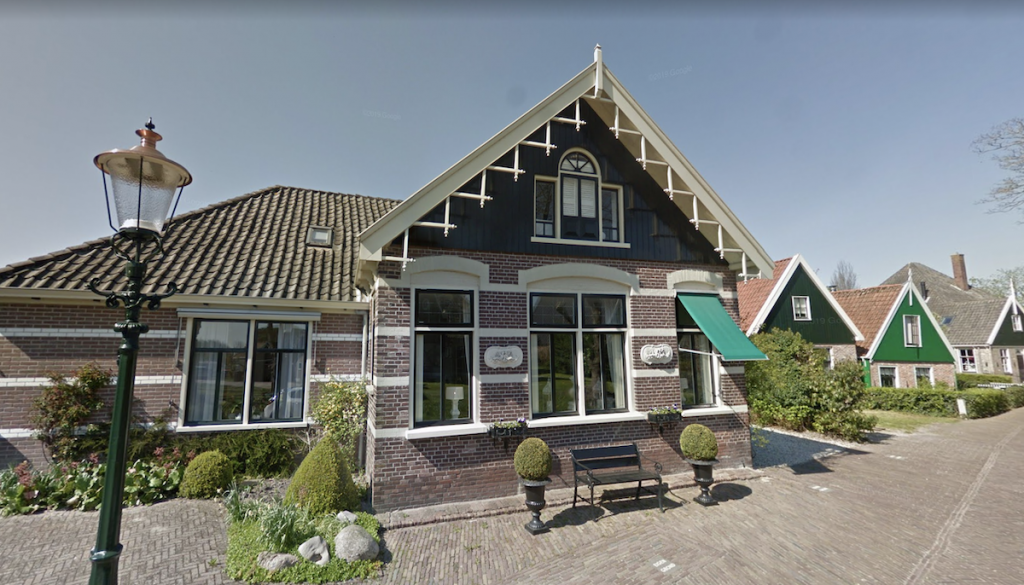 Ancestral Line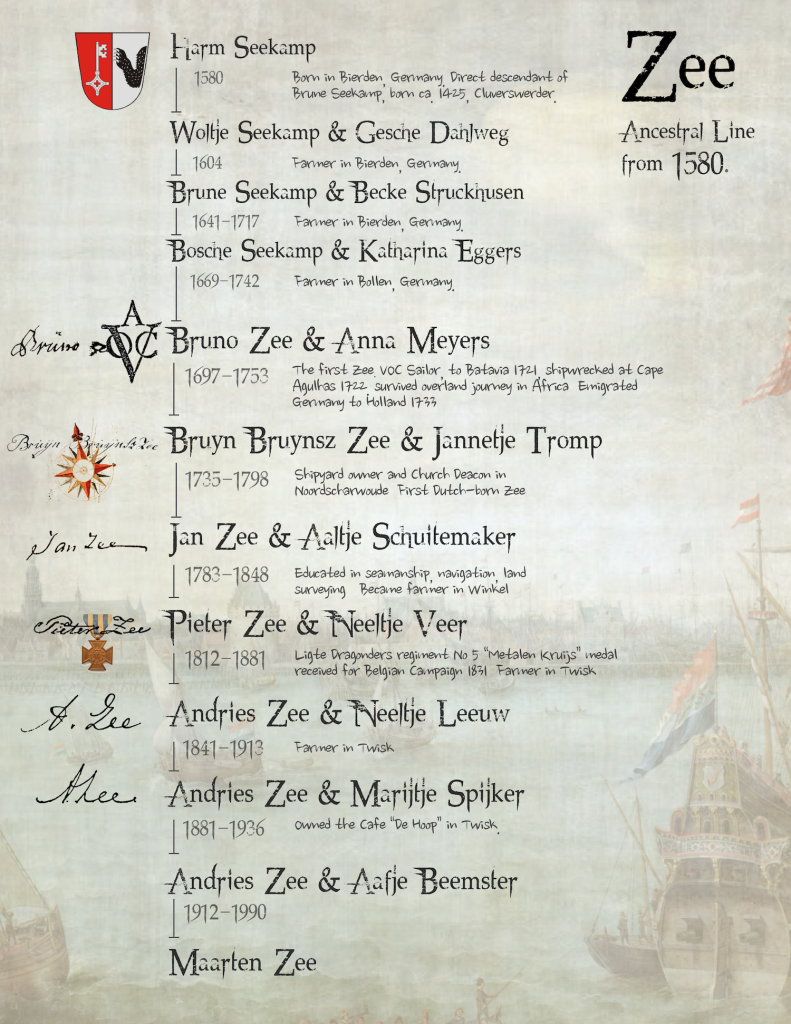 Photos
Genealogy
(E) Andries Zee [Pieter Zee & Neeltje Veer] 
* 29-Mar-1841 Twisk [>]
+ 25-Jul-1913 Twisk [>]
x (1) Neeltje Leeuw 05-May-1867 Twisk [>]
* 12-Dec-1846 Twisk [Dirk Leeuw & Elsje Kort]
+ 05-Feb-1892 [>]

Children:
F1 Pieter     22-Feb-1868 Twisk         x Grietje Koorn
F2 Dirk       23-Jan-1872 Opperdoes     x Antje Nes 
F3 Andries    07-Aug-1881 Opperdoes     x Marijtje Spiijker

x (2) Johanna van Wijland 30-Aug-1895 [>]
* 25-Sep-1852 Amersfoort [Teunis van Wijland & Jantje Kok]
+ 14-Feb-1913 Twisk [>]

_______________
GENERATION F (1868-1881)

F1 Pieter Zee
* 22-Feb-1868 Twisk [Andries Zee & Neeltje Leeuw]
+ 22-Feb-1954 Hoorn
x (1) Grietje Koorn 23-Dec-1891 Twisk
* 15-Sep-1866 Opperdoes
+ 03-Feb-1938 Hoorn
Children:
1 Neeltje Zee    20-Feb-1892 Hoogwoud x Jan Smit 
2 Maarten Zee    27-May-1894 Hoogwoud x Trijntje Zijp
3 Andries Zee    24-Mar-1896 Hoogwoud x Hendrina Meuldijk

x (2) Elizabeth Zee
+ 23-Oct-1875 Opperdoes
+ 21-Jul-1929 Abbekerk
Children:
1 Cornelis Zee    07-Jun-1901 Hoogwoud + 03-Sep-1901
2 Johanna Zee     05-Sep-1902 Hoogwoud +       ~1918
3 Cornelis Zee    30-Jan-1908 


F2 Dirk Zee 
* 23-Jan-1872 Opperdoes [Andries Zee & Neeltje Leeuw]
+ 13-Jan-1961 Abbekerk
x Antje Nes
* 17-Nov-1870 Twisk     [Gerrit Nes en Trijntje Schagen]
+ 24-Jul-1924 Abbekerk. 
Children:
1 Neeltje Zee
2 Trijntje Zee x Jan Liefhebber


F3 Andries Zee 
* 07-Aug-1881 Opperdoes [Andries Zee & Neeltje Leeuw]
+ 25-Jul-1936 [>] 
x Marijtje Spijker 30-Apr-1911 Twisk [>]
* 17-Dec-1890 Twisk [Christiaan Spijker & Lijsbeth Hemme] 
+ 02-Jan-1973 Twisk
Children:
G1 Andries     01-Feb-1912 x Aafje Beemster 
G2 Lies        ?
G3 Johanna     ?


_______________
GENERATION G (1894-1912)

G1 Maarten Zee
* 27-May-1894 Hoogwoud [Pieter Zee & Grietje Koorn] 
+ 15-Apr-1981 Abbekerk
x Trijntje Zijp 02-Oct-1917 Abbekerk
* 03-Nov-1895 Abbekerk
+ 24-Dec-1985 Twisk 
Children:
1 Maartje Zee   01-Apr-1925 x Karel Chatillon
2 Grietje Zee               x Pieter Bobeldijk 
3 Leentje Zee               x S Toth

G2 Andries Zee
* 24-Mar-1896 Hoogwoud [Pieter Zee & Grietje Koorn]
+
x Hendrina Meuldijk 
*
+ 
beroep: Kaptein

G3 Cornelis Zee 
* 30-Jan-1908 Abbekerk [Pieter Zee & Elizabeth Zee]
+
x Trijntje Vos 25-Apr-1933 Midwoud
* 02-Nov-1908 Midwoud
+ 
Children:
1 Pim Zee              22-Dec-1933       x G. Hagedoorn
2 Geert Zee            02-Feb-1937       x W. Leeuwenkamp
3 Martien Cornelis Zee 30-Aug-1946 Zwaag x Maria van Dam


G4 Andries Zee 
* 01-Feb-1912 Twisk [Pieter Zee & Elizabeth Zee]
+ 20-Jan-1990 
x Aafje Beemster 23-04-1936
* 18-Dec-1915 Andijk [Maarten Beemster en Aaltje Pool]
+ 16-May-2000 Hoorn 
Children:
1 Lida Zee        1937 Twisk x Dirk Ruiter
2 Andries Zee     1939       x Desiree Hooghuis
3 Marianne Zee    1945 Twisk x Albert Plesman
4 Maarten Zee     1952       x (1) Vita Mahindra Sing x (2) Margriet Brinkman

_______________
GENERATION H (1933-

H1 Pim Zee 
* 1933 x G. Hagedoorn
Children:

H2 Geert Zee 
* 1937 x W. Leeuwenkamp

H3 Martien Cornelis Zee 
* 1946 Zwaag x Maria van Dam

H4 Andries Zee 
* 1939 x Desiree Hooghuis
Children:
1 Marleen
2 Jochem
3 Liesbeth

H5 Maarten Zee 
* 1952 x (1) Vita Mahindra Sing
Children:
1 Robert
2 Roger
x (2) Margriet Brinkman
Children:
3 Roderick
4 Rowena
5 Diederik

Timeline
      
Andries Zee

05-May-1867 Marriage of Andries Zee & Neeltje Leeuw, also present at wedding Jan Zee, 30, bakker, and Cornelis Zee, 31, farmer, both brothers of groom [> p.112]

30-Aug-1895 Marriage of Andries Zee & Johanna van Wijland. Andries Zee farmer, 54, widow of Neeltje Leeuw [>]

01-Jan-1900 Bvr Twisk: Andries Zee living at Nr. 119 Twisk (later Nr. 126 - renumbered, or moved?), Dairy Farmer, with Johanna Wijland, wife, Andries Zee Az (1881) (> 01 Nov 1907 to Abbekerk), Andries Zee Pz jr, neef (14-Mar-1896, Hoogwoud) [>] In 1909, Andries Zee Az (1881) returns from Abbekerk, 

26-Jul-1913 Andries Zee dies, widow of Johanna van Wijland, living at Twisk Kom Nr. 50. Witness Dirk Zee, farmer, 41, and Andries Zee, farmer, 31. [>]

Andries Zee jr

01-May-1911 Bennemeer Molen history: Het Poldertje De Bennemeer(± 110 ha) is sinds 1634 een droogmakerij. In 1300 komt het al op de West-Friese Landkaart voor( zie "Ach Lieve Tijd" blz. 12). Door brand en sloop zijn er van de 11 stolpen 9 overgebleven, waaronder die van de fam. P. Ham, Bennemeersweg 8. Het enige boerenbedrijf in de Bennemeer waar nog koeien gemolken worden. Tot 1923 werd het waterpeil in de hand gehouden door middel van een windmolen. Via zijslootjes stroomt het overtollige water naar de wegsloten ter weerszijde van de Bennemeersweg. De Weg is geheel opnieuw bestraat in 1992, voorlaatste keer was in 1950. De Iepenbomen bepalen nog immer het gezichtsbeeld, maar ieder jaar zien we er enige verdwijnen t.g.v. de iepziekte. De ringsloot rond de Bennemeer is ± 5 ½ km lang. Het huidige elektrische gemaaltje is geplaatst in 1925. 1 mei 1911 stopt Chris Spijker getrouwd met Lijpie Hemme als molenaar, hij was dit vanaf 1903-1911. In 1903 gingen Pieter Spijker en Moortje van der Wolf uit de molen, doch volgden Chris Spijker weer op in mei 1911. Deze Pieter Spijker was de laatste molenaar-bewoner, tot in 1926 de molen werd gesloopt. (Zie Twisca jaarboekje 1999, blz. 13) Pieter Spijker en Moortje van der Wolf lieten nadat ze in 1903 uit de molen kwamen, een huis zetten. Doch hij werd al snel weduwnaar met 5 kinderen. Hij moest het huis in 1907 verkopen en kwam 1 mei 1911 weer in de molen als molenaar. [>]

From "Twisk in oude ansichten" [>]: Het echtpaar Spijker-Hernme was in Twisk een zeer vertrouwde verschijning. Zij verkochten gedurende een periode van veertig jaar melk en karnemelk. Iedereen kende ze als "Chris en Lijp". Voordat ze dit werk deden woonden ze als molenaarsechtpaar in de molen van de Bennemeer. Lijp droeg altijd de Westfriese "hul" en bij sommige gelegenheden het "boerehoedje", zo ook op deze foto. Chris droeg de ouderwetse blauwe kiel. Rechts ziet u de boomgaard bij de boerderij van J. Stam. Later werden twee ambtswoningen van de gemeente op een gedeelte van deze boomgaard gebouwd. [>]

From "Twisk in oude ansichten" [>]: Cafe "De Hoop", links, werd gebouwd rond 1906. Kastelein was toen A. Zee. In 1949, nadat het al enige tijd niet meer als cafe dienst had gedaan, werd het gebouw ingericht als kleuterschool met conciergewoning. In het huisje er naast woonde toen kleermaker H. Zwagerrnan, daamaast timmerman K. Bennemeer en in het voorhuis van dit pand de familie Ham. De kinderen op de foto zijn, van links naar rechts: G. Bierman, J. Koolhaas, J. Wagemaker Wzn. en J. de Boer, links op de wagen L. lee (dochter van de kastelein), de zusjes N. en G. Winkel, Dries Zee (zoon van de kastelein) en de meisjes M. Zee, G. Ruiter en J. Visser. From Twisca [>]: 1948; door "Het Nut" wordt de kleuterschool opgericht. Deze is gevestigd in het voormalige café "De Hoop". Nu Dorpsweg K78a.

From "Twisk in oude ansichten" [>]: De onafhankelijkheidsfeesten in 1913 werden ook in Twisk gevierd en wel op 31 augustus van dat jaar. Er werd een optoeht gehouden waarin ook Napoleon te paard verscheen. De min of meer verantwoord uitgedoste heren zijn, van links naar reehts: H. Bollema, G. Wijdenes en A. Zee als Napoleon. 

30-Apr-1911 Andries Zee marriage to Marijtje Spijker, daughter of Christiaan Spijker, watermolenaar. Andries Zee is 29, Farmer. [>]

25-Jul-1936 Andries Zee dies after a fatal accident. [>]





Documents