What makes a man go west?
Just like his 3rd-great-grandfather, Bruno, Paul Zee was ready for adventure, and a new life. In 1907, at the age of 27, he and his wife Johanna decided that the United States would be the place to do that.
For a time Paul ran a grocery store in Amsterdam, but became bankrupt in 1905, and moved to Egmond aan Zee, near Alkmaar – where Johanna's family was from. But he had a friend in Chicago – one "C. Schermer", according to the ships manifest on his departure voyage. And so, on March 23rd, 1907 they set sail on the Rijndam to New York, making the Atlantic crossing at blistering speed – just 10 days.
After spending some years in Chicago, Paul and Johanna moved to the tiny village of Lester, Iowa. Here, Paul opened "The Paul Zee Store of Quality" in March 1919.
Paul and his cousin Pieter would become the forefathers of the "American Zee's".
Their Story
10.2. Paulus (Paul) Zee, son of Frederik Zee, was born on March 26, 1880 in Opperdoes in the Porvince of Noord Holland in The Netherlands. Paulus profession was 'shop keeper', most likely of a general store. On the 1920 census of Lester, Lyon, Iowa, Paul's occupation is listed as 'merchant in a retail general store'. On the 1930 census for Holland City, Ottawa, Michigan, his ocupation is listed as 'agent for a life insurance company'.
He died on February 19, 1958 in Holland, Michigan and he is buried in Oak Hill Cemetery, Grand Rapids, Kent, Michigan. [ From https://koniweb.nl/us/ancestral/zee/zeeg10.html#27]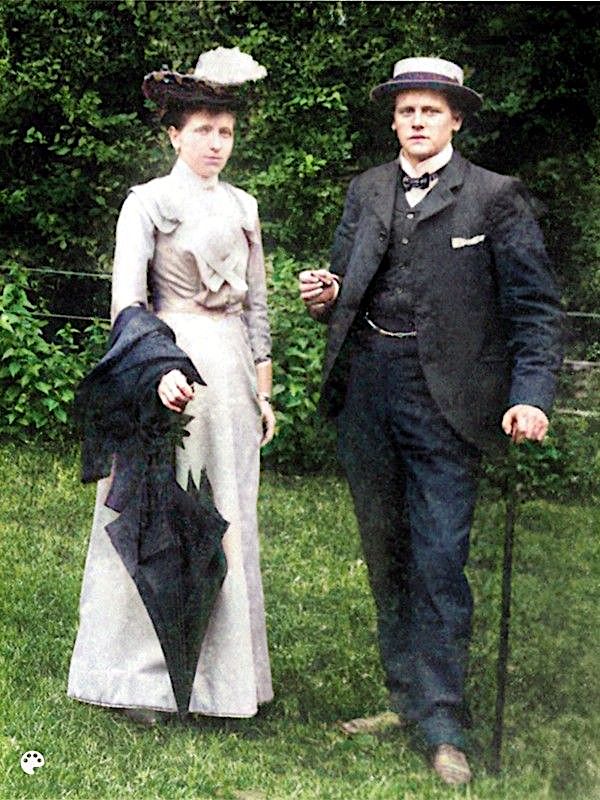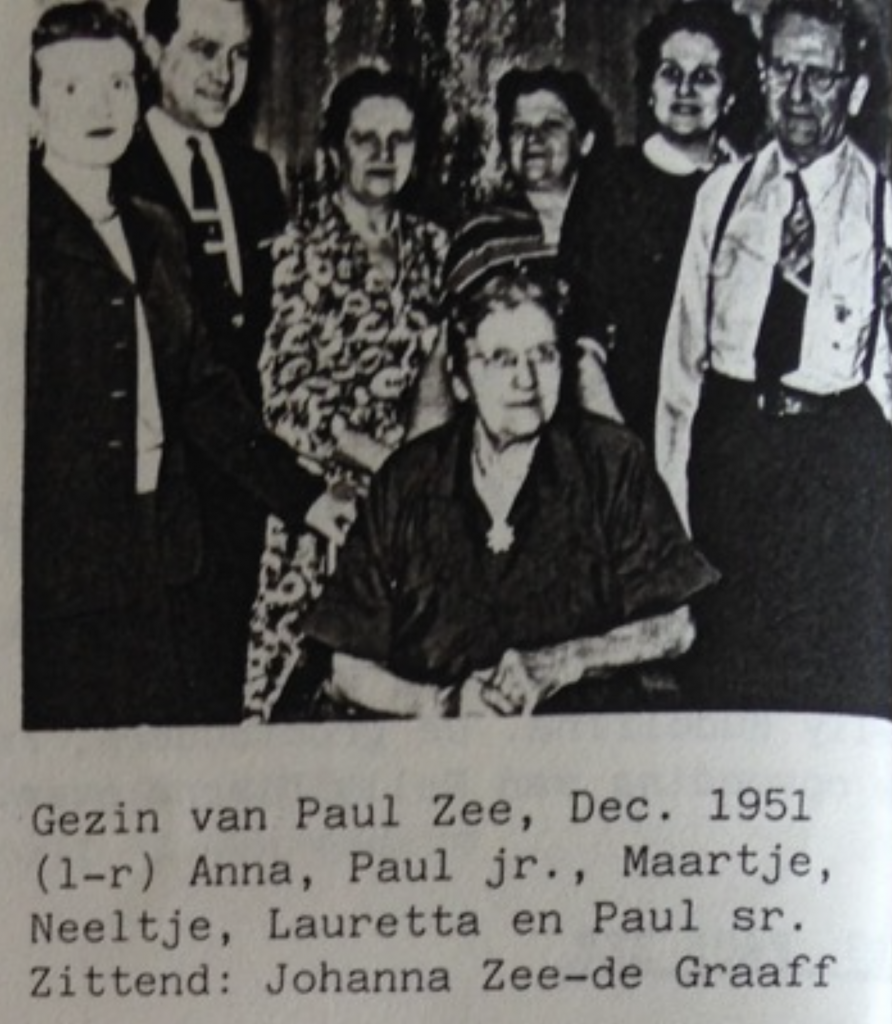 Paul and Anna's family

Lauretta Zee married Albert Lucas (with her brother in law, Murray Steinkamp, as the celebrant), and had a daughter, Linda. She later married Claude Bilbey. In 1940, she was a telephone operator in Grand Rapids, MI.

Lauretta and Albert had three children: Paul, Linda, and Miriam.
Paul Henry Zee married Marjorie Jean Castor in Grand Rapids 1945.

Neeltje Zee (known as Nella) married Earl Ziel, and had two children, Ronald and David.
Genealogy
F Paul Zee
b 26-Mar-1880 Opperdoes [>] [Frederik Zee & Maartje Bakker]
+ 

x Johanna de Graaff 18-Sep-1901 Haarlem [>]
* 14-Feb-1878 Alkmaar [>] [Hendrik de Graaff & Antje Prins]
+ 

Children:
1 Maartje Frederika  01-Dec-1902 Amsterdam        +17-Apr-1992 Pella, Iowa
2 Anna Hendrika      26-May-1908 Chicago          +15-Jul-1992 Washington, Minnesota  
3 Neeltje            09-Jul-1912 Sheldon, Iowa    +02-Dec 1987 Butte, California
4 Paul Henry         08-Jun-1917 Steen, Minnesota +20-Jan-2001 Grand Rapids, Michigan
5 Lauretta           22-Jun-1918 Steen, MI        +11-Aug-2004 Hastings, Michigan              

Maartje Frederika Zee x (1) Murray Earl Steinkamp 
1 Joan Charter

Anna Hendrika Zee x (1) Russel Vermurlen:
1 Robert Vermurlen    c. 1928     x Marion 
2 Jack Vermurlen      19-Sep-1929 x Dorothy Brown
3 Lee Vermurlen       c. 1931     x Diane Walters
x (2) L Padgett

Neeltje Zee x Earl Ziel
1 Ronald D. Ziel     c. 1934    +
2 David E. Ziel      c. 1937    x Janet Ranch 1958
x (2) Lew Walden

Paul Henry Zee
* 08-Jun-1917 Steen MI 
+ 20-Jan-2001 Grand Rapids MI > 
x Marjorie Jean Castor 02-Jun-1945 Grand Rapids MI [>]

1 Judith Ann Zee     c. 1945    x Philip Jacobson, Jack Gistinger [?]
2                               +1956 ? 

Lauretta Elisabeth Zee x (1) Albert Lucas 
1 Paul Lucas
2 Linda Anne Lucas    1942       +1995
3 Miriam Lucas
x (2) Claude Bilbey

Timeline
13-Jun-1900 Paul moves out of the family home in Hoorn, to Alkmaar [>]. In Hoorn, he lived with his parents at Turfhaven 19, and Spoorstraat 16 - along with his sisters daughter Nelly Rudolfine Zee, after her mother died.

1900 Paul is listed in military conscription records as a Bakers apprentice, 1m70cm tall, grey eyes, blond hair. [>]

21-Aug-1901 Paul and Johanna move into a house on the Tweede Nassaustraat, No. 16, in Amsterdam. Johanna's sister Gezina (who will later marry his cousin Pieter) lives with them from 11-Jul-1902 until 19-Jul-1905, when she moves to Alkmaar. Paul is listed as a Grocer (kruidenier)  [>]

30-Mar-1905 Paul is declared bankrupt in Amsterdam. [>] Paul and Johanna move from Amsterdam to Egmond aan Zee on 12-Jul-1905. [>]

23-Mar-1907 Paul and Johanna emigrate with their daughter Maartje to the USA on the ship Rijndam, traveling Rotterdam-New York [>]. They pay 120 guilders per ticket, booked through Thomas Cook Amsterdam. Possibly also traveling with Willem van Otters & his wife, and Jacob van Kampen (ticket sequence no.s same). US Manifest on arrival shows final destination a friends house: C. Schermer at 11024 Michigan Avenue, Chicago. [His cousin Pieter Zee, who also emigrated around 1906, his mother was Antje Schermer. Possibly connected]

19-Apr-1910 Paul and Johanna are living at 30 E 103rd Street, Chicago.  Paul is a salesman of Comptometers. US Census 1910. He's actually listed as "Powell Zee", but that would be how Paul sounds in Dutch. [>]

16-Mar-1912 Paul Zee, Rotterdam to New York, Holland America Line, final dest Kensington, Illinois + 2 children [>] 27-Mar-1912 Johanna, Maartje, and Anna arrive NY on Nieuw Amsterdam, departed Rotterdam 16-Mar-1912 [>]

29-Jan-1920 Paul and Johanna are living in Lester, Iowa. He runs a general Store here. Their children are Marie, Anna, Nellie, Paul Jr., and Loretta. US Census 1920 [>]

20-Mar-1919 "It is reported that B.I. Tripp had sold his store to Paul Zee, who will take posession of it Monday" [>]

21- Jun-1923 Reference to "The old Paul Zee Store of Quality" in Lester, Iowa. Iowa Newspapers, 1837-2009
"… June 13, 1923. He is survived by his wife, two sons and three daughters. The boys are Chris and girls, Mrs. Anna Stoltenberg, Mrs. Ella Miller and Josie. Henry Serck, of Alvord, and Theodore Serck and Nicholas Serck, of Inwood, are brothers. LESTER The old Paul Zee Store of Quality has been reopened by the Co., with Joseph Adema as manager. A fine new stock has been put in, and the company is …" Publication place: Rock Rapids, Lyon County, IA, USA Publication date: June 21 1923 [>] and [>]

08-Dec-1936 Mrs Paul H Zee on the Brooklyn/Flatbush Nursery Board [>]. Also ref'd as Mrs Paul H Zee (1935). Ad from 1923 for Paul H Zea. => Not related.

21-Mar-1955 Paul H. Zee added to sales staff of U.S. Truck Company, Inc. [>]

20-Feb-l958 Obit. Grand Rapids Herald: Mr. Paul Zee Sr. age 78 of 323 Union Ave NE passed away suddenly Weds Eve. surviving are his wife Johanna E. a son Paul Zee Jr of Grand Rapids, 4 daughters Mrs. M. Steinkamp of Woodstock, Minn; Mrs. Lou Walden of Taft California; Mrs. Albert Lucas of Holland and a brother Peter of the Netherlands. [>]

15-Jun-1961 Obit. Grand Rapids Press: Johanna Zee aged 84, widow of Paul Zee, Sr. formerly of 323 Union Ave NE passed away at the Mulder Nursing Home Thursday morning in Holland, Mich. She is survived by 4 daughters; Mrs. Murry E. Steinkamp of Iowa, Mrs. Gordon Padgett of Thornton Colo; Mrs. Lou of Taft California; Mrs. Albert Lucas of Holland; l son Paul of Grand Rapids ; 2 brothers Peter and John DeGraff of California. l2 grandchildren; l2 great grandchildren. [>]

16-Jun-1961 Obit. Mrs. Paul Zee Dies at Age Mrs. Paul (Johanna E) Zee, of Grand Rapids, who for the past three years had been a patient the Mulder Home in Holland Thursday morning at the Home. She was born in Alkmaar, the Netherlands. Surviving are four daughters. Mrs. Albert Lucas of Holland, Mrs. Lewis Walden ol Tali. C a Mrs. Gordon Padgei! oi Denver. Colo., and Mrs. .Murray Slemkanip of Bristow. Iowa: one son. Paul H. Zee. of Grand Rapid*: 12 j grandchildren and 17 great grandchildren. Also surviving are four brother. Henry De Graaff of Grand Cornelius De Graaff of Harthorne. N. J., Jacob De Graaf of Grand Rapids, Peter De Graaff of Spokane. Wash., and two sisters. Mrs. Bessie Van den Heuvel of Grand Rapids and Mrs. Peter Zee of Gabriel, Calif. Dr. Paul Lehman, pastor of Calvary Undenominational Church j in Grand Rapids will officiate. j Funeral services will be held Saturday at 3 p.m. at the Es.ae- been Funeral Home in Grand Rapids. Burial will be in Oak Hill Cemetery in Grand Rapids. Friends and relatives may meet the family at the Funeral Home tonight from 7 to 9. [>]

20-Jan-2001 Obit. Grand Rapids Press: Paul H. Zee Jr aged 83 of Grand Rapids went to be with the Lord Sat. Jan 20, 200l. He was preceded in death by his wife Marjorie and his infant son. Surviving are his daughter Judy (Jack) Gistinger of Rockford, his grandchildren Lori Jacobson, Melinda (Silvestre) Luevano, Heather Jo Jacobson and Vicki Jacobson; a step grandson John (Ginger) Gistinger; 5 great grandchildren, 4 step great grandchildren; his sister Lauretta (Claude) Bilby several sisters in law and brothers in law, nieces, nephews and cousins. Paul was one of the founders of the Veterans Cab company, member of the American Legion and the V. F. W. [>]
Photos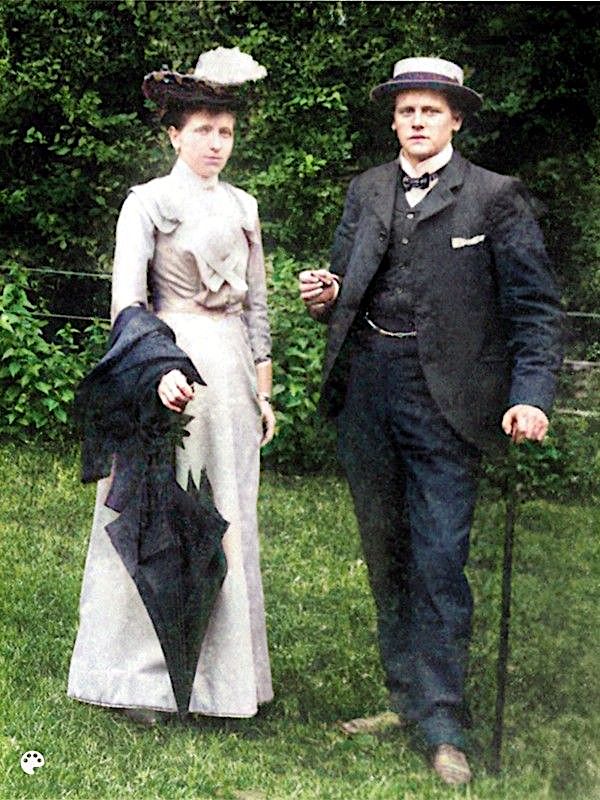 Documents