Cunera Janna van Alphen
Pieter Zee's second wife. Her parents were Willem van Alphen and Neeltje van den Brink. Willem took his mothers name (also Cunera Janna van Alphen), as his father was unknown. The first Cunera got her name, according to family stories, from the Cunerakerk church in Rhenen.
Hoorn
From 1904 to 1906 Pieter Zee lived in Hoorn, and had a shop at Groote Noord 19.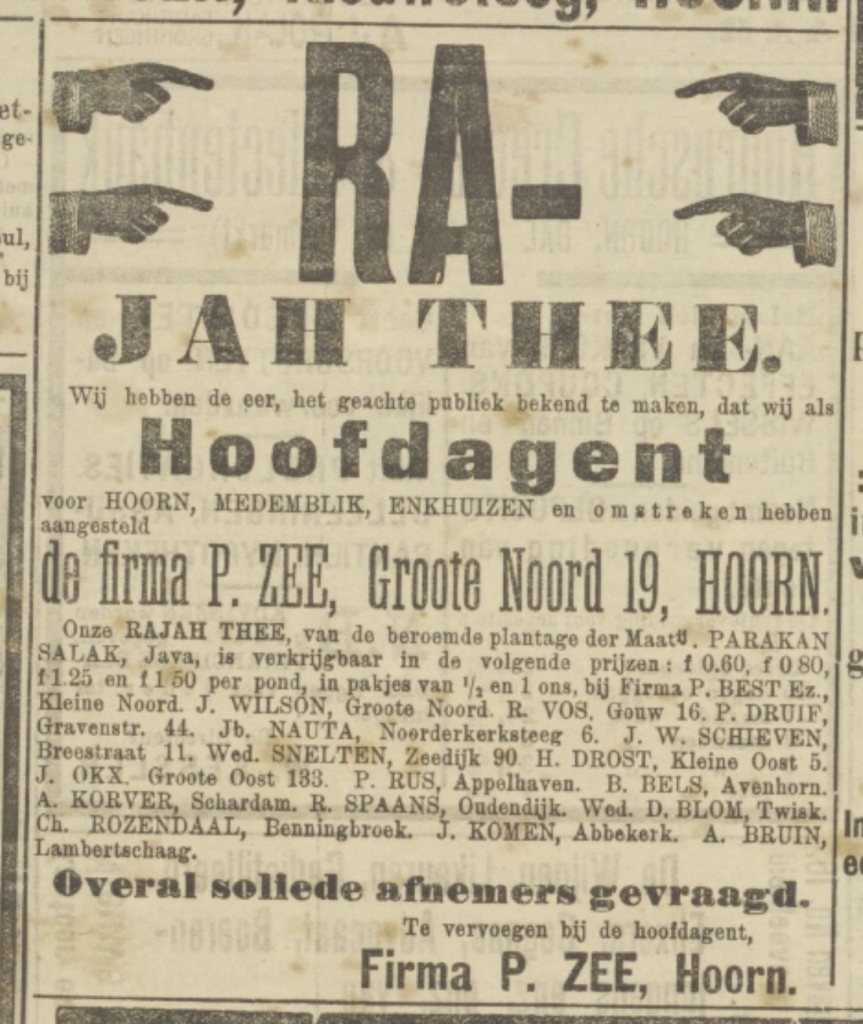 The building in the meantime seems to have been demolished, and a "Pastorie" for the church built in the same place.
Pieter Zee's later life
From family knowledge (Arja), Pieter Zee came to live with his son Frederik Zee & family in his later years. He died aged 85 in 1962.
Photos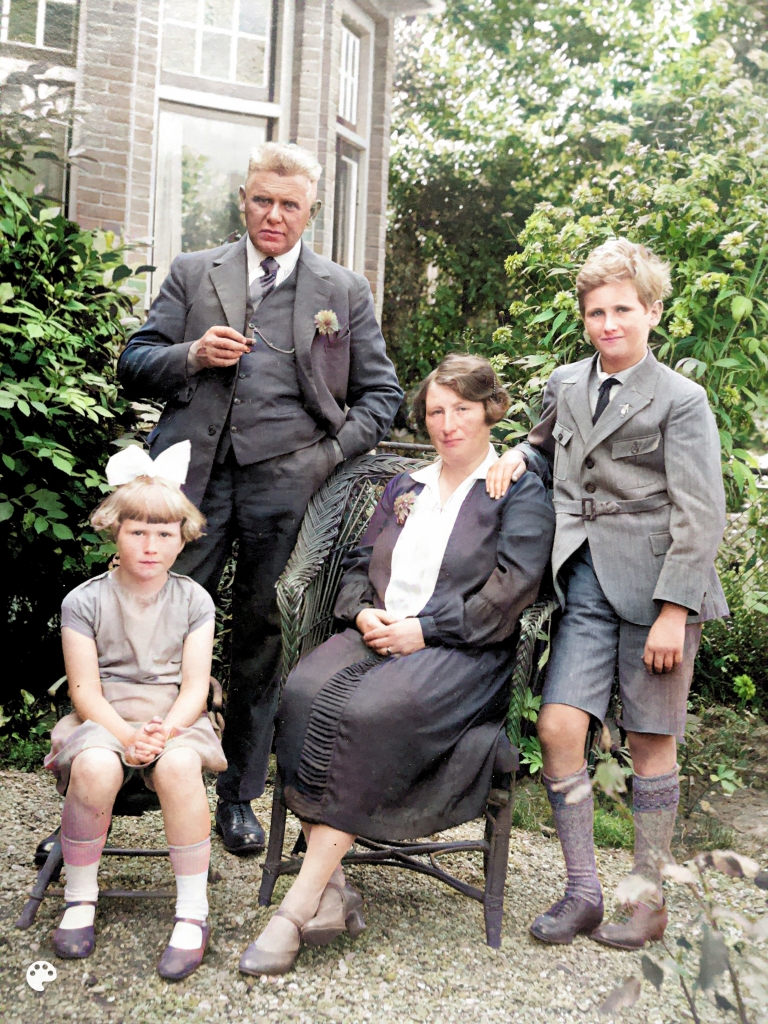 Genealogy
Pieter Zee
* 14-Nov-1876 Opperdoes [Frederik Zee & Maartje Bakker]
+ 05-Mar-1962 Soest > Aged 85
x (1) Alida Wienands 14-Aug-1902 Amsterdam
* 24-Dec-1872 Leerdam [Leonardus M. Wienands & Wilhelmina C. Klok]
+ 19-Feb-1947 Arnhem Aged 74

1 Maartje      29-Mar-1903 Amsterdam   x Willem Anderson     + Velp
2 Wilhelmina   12-May-1905 Hoorn       x Otto Nuijs
3 Frederika    20-Oct-1906 Zaandam     + 27-Oct-1906 Zaandam

x (2) Cunera Janna van Alphen 02-Sep-1915 Amsterdam 
*      c.1883 [Willem van Alphen & Neeltje van den Brink]
+ 29-Apr-1968 Soest > Aged 85

4 Frederik     04-Jul-1916 Zaandam   x Catharina Hendriksen, M. Nolan, M. Brennan
5 Petronella   06-Apr-1920 Sloten    x Jan van Breukelen


4. Frederik Zee
* 04-Jul-1916 Zaandam
+ 12-Jun-2012 Waterford, Ireland Aged 95
x (1) C.M.A. Hendriksen c. 22-Feb-1946 Soest >
* 
+

Children:
1. Peter L.           09-Dec-1946 Soest 
2. Arja               
3. Elfried              -Feb-1950 Soest    x M. Ryan

x (2) Marcella Nolan
* 
+ 

Children:
1. Mark               31-Oct-1975 Waterford, Ireland

x (3) Mary Brennan
*
+ 


GENERATION H

Mark Zee
* 31-Oct-1975 Waterford, Ireland [Frederik Zee & Marcella Nolan]
x Yulia Belozersky 11-Oct-2019 New York
* 29-Nov-1981 Kiev [Eugene Belozersky & Valentina Nagorny] 

Chilren:

1. Zoe                25-Jul-2021 Christchurch, NZ

Timeline
      
Pieter Zee (My grandfather)

      1896 Living in Winkel [Military register 1896, 23-177 Militieregister, 1896]

5-Apr-1897 Pieter Zee mentioned in Hollandse Courant as koek bakker. >

9-Oct-1897 Pieter Zee, broodbakker, moves from Hoorn to Midwoud, house of Frederik Zee - De Buurt 52/58. [Aged 21 here]

24-Nov-1897 Pieter Zee: "Vraag uw Koek voor den St. Nicolaas, van P. ZEE te Midwoud. Prima kwaliteit Speculaas van af 35 to 45 Ct., Brokken 25 Ct. Prima Koektaai 25 Ct. Kantkoek 20 Ct. Alles per 5 ons. Voorts alle soorten Koek verkirjgbaar. Winkeliers en Slijters genieten flink rabat"

11-Jan-1899 Pieter Zee Meid-huishoudster en bakkers leerling, Midwoud. 

22-Feb-1899 Pieter Zee ad for oats, Midwoud >. 29-Mar-1899 same ad, but now "J. Zee, Venhuizen" is also a seller. Indicates connection between Piet Zee and J. Zee in Venhuizen > Another ad for housekeeper Sept. 1899. [Bruin Zee geb 15-02-1859, Venhuizen, beroep: Broodbakker, tr. (1) 22-04-1881,           te Berkhout, Grietje Koelemaij, gebca 1859, Berkhout, (dochter van Pieter Koelemaij en Dieuwertje Koster) ove 29-09-1923, tr. (2) 26-10-1924, te Midwoud, Leentje Schuts, geb 18-08-1860, Berkhout, ove 11-11-1947, Zwaag : This Bruin Zee moved to Midwoud, and was also a broodbakker. Research more] This B. Zee moved from Berkhout 12-Oct-1904 >                                  

11-Apr-1900 P. Zee still broodbakker in Midwoud, again looking for housekeeper. 07-Nov-1900 P. Zee Midwoud ad for hay. 

09-Apr-1902 P. Zee Midwoud, boelhuis, ket enz. > [In summary P. Zee in Midwoud from 1897-1902 - five years]

14-Sep-1898 Alida Wienands married Cornelis Philippus van Gelderen in Rotterdam [>]

27-Jun-1904 Pieter and Alida living at Grote Noord 19, Hoorn, with children Wilhelmina and Maartje, Pieter Zee's profession: Winkelier, family left 29-Oct-1906 for Zaandam. [>] Total 2 years in Hoorn. Original building demolished 1908. "1908 R.K. Parochiaal kerkbestuur; slopen nrs. 17, 19, 30 aan de Geldersesteeg en nrs. 20, 22 aan het Achterom (oude nummering). 1908 R.K. Parochiaal Kerkbestuur; bouwen nieuwe pastorie met verbindingsgang en catechismuskamer ter plaatse van de afgebroken percelen. I n 1909 voltooiings- verklaring en bewoonbaarverklaring." Architect P. Snel te Amsterdam. (Oud Hoorn)

09-Aug-1905 Living at Grote Noord 19, ad for Ra-Jah tea [>]

01-Jun-1905 Antje Zee Brd. overleden Midwoud.

20-Oct-1906 Pieter and Alida living at Anna Paulownastraat 29, Zaandam, Pieter Zee's profession: Reizend agent [birth reg. of Frederika, see Docs]

18-Apr-1919 Pieter and Janna van Alphen living Amsterdam, Witte de Witstraat 11, III, arrived 18-Apr-1919 from Zaandam, with Janna van Alphen (wife), Wilhelmina van Alphen b. 22-Oct-1901 Breukelen (left 18-Jul-1919 for Breukelen-Nijenrode), Frederik Zee (father, born 26-Aug-1845, living with them from 17-Sep-1919), Petronella Cunera b. 06-Apr-1920. [see Docs] 

13-Mar-1962 (Paper ad) Pieter Zee overleden Soest, Zwaluwenweg 11. >

07-May-1968 (Paper ad) Janna van Alphen overleden Soest, Zwaluwenweg 11. >

Frederik Zee

21-Sep-1938 F. Zee living Stadhouderslaan 59, Soest. Spanish lessons. >

04-Dec-1943 Mej. N. Zee [Nel] Zwaluwenweg 11, Soest. Orchest ad. >

16-Sep-1945 Toos Hendriksen & Fred Zee verloofd. Address Zwaluwenweg 11, Soest. >

30-Jun-1946 Nel Zee & Jan van Breuklen verloofd. Zwaluwenweg 11, Soestdijk. > 07-May-1947 Ondertrouwd >

20-Dec-1946 Living Stadhouderslaan 108, Soest > Birth of son P.L. 


Others

18-Feb-1821 Cunera Janna's parents, Johannes van Alfen, a retired soldier, & Willemina Verschuur are married in Lienden. Johannes is 48, Willemina is 24. [>]

10-Dec-1852 Willem van Alfen, died Veenendaal, 9 days old, son of Kunera Janna van Alfen, unemployed, father N.N., 185 Wijk B Veenendaal. No father named. [>] Birth record [>] reads: mother, Kunera Janna van Alfen, 33 years old. Witness for birth: Aris Budding, 65. (Calc birth for Cunera is therefore 1819.)

13-Oct-1855 Registration of birth of Willem van Alphen, Jannas father, in Utrecht. Mother: Cunera Janna van Alphen, Koopvrouw (Buyer) living Veenendaal, and the Akademisch Ziekenhuis Utrecht. Notified by Hendrik Koopman, bediende, 28 years of age. [>] Note: all further records for Willem van Alphen show father as unknown - same as with his two brothers.

24-May-1860 Birth of Johannes van Alphen, Veenendaal, mother Kunera Johanna van Alfen, koopvrouw, 40 years old, unmarried daughter of the Johannes van Alfen, deceased, and Willemina Verschuur. Again, father: N.N. [>]. Veenendaal Wijk B No.53, 

Are there any Bevolkingsregisters showing the family card?

11-Oct-1941 Willem Anderson, 47 years old, born in 1893 or 1894, keurmeester by profession, died Utrecht, wife Maartje Zee [>]. Willem was born on March 28, 1894 in Stad Doetinchem (Doetinchem), son of Stephanus Anderson & Gesina Sophia Lindenhovius [>]. They had a daughter Alida Sophia Elisabeth Beek, born 12-Apr-1934, married Drs Marius Robbert Beek. [>]

Wilhelmina Zee

Wilhelmina Catharina Zee. Geboren 12-05-1905 te Hoorn,NH, Verpleegkundige, overleden 16-09-1980 te Velp,GE,Gecremeerd te Dieren
Uit dit huwelijk:
Gerrit Jan (zie: 2).
Cornelia, geboren 24-06-1943 te Rotterdam,ZH, Onderwijzeres. >



Documents