The Ballyknock Murphys
Pierce Murphy and Ann Doran are ancestors that many of our family trace back to. Pierce and Ann raised their family in Ballyknock – a small townland near St. Mullins, Co. Carlow. Four of their ten children – James, Mary, John and Lawrence emigrated to the United States, finally settling near Tecumseh, Nebrasksa.
Pierce and Ann's family
1. James Murphy (x Mary Reddin)
James was the first child, baptised 18 Nov, 1837. He married Mary Reddin from Donegal in 1882, and had 13 children in Maple Grove, Nebraska. He died after a fall from a horse on 27 Feb, 1906.
2. Mary Murphy (x Johnny Burns)
Mary was baptised 14 July, 1839 at St. Mullins church. In 1868 she emigrated to the US on the ship "Virginia". She married Johnny Burns.
3. John Murphy
John was baptised 16 Jan, 1841. According to the family gravestone in St. Mullins, he died young. His younger brother, also named John, was baptised in 1851, so this John died sometime before 1851, no older than nine years of age.
4. Patrick Murphy
Patrick was baptised 14 Feb 1842. Patrick later lived with his brother Thomas Murphy and his wife Catherine in Ballyknock (Irish 1911 Census). He died 14 Sept 1926, still residing in Ballyknock.
5. Lawrence Murphy (x Ellen Taggart)
Lawrence was born 10 May 1844, though not baptised until six months later. He emigrated to the US in 1866 with a friend John Burns. He married Ellen Taggart and had 12 children in Tecumseh.
6. Thomas Murphy (x Catherine Ryan)
Baptised on Dec 24, 1846. Remained in Ireland and married Catherine Ryan.
7. Catherine Murphy
Baptised May 27, 1849. Died before 1882. According to gravestone, "died young" ("young" likely meaning before the age of 18, so ca. 1865.
8. John Murphy
Baptised 23 Nov 1851. The second John Murphy in the family, his younger brother died young. Emigrated to the US, first to Tecumseh, and then moved to Utah. He died in Salt Lake City in 1920, where he worked as a miner. He had been missing for a long time, not in contact with the family.
9. Michael Murphy
Baptised 23 Nov 1853. Death after 1882.
10. Elizabeth Murphy
Married Patrick Nolan
Wider family
Baptism sponsors (Ballyknock)
James Murphy (1837) – Ja. Murphy & Bridget Murphy >
Mary Murphy (1839) – Laurence Murphy & Ann Murphy >
John Murphy (1841) – Patrick Morrisey & Mary Doran >
Thomas Murphy (1846) – Pat Doran and Bridget Morrissey.
Michael Murphy
Pierce's brothers and sisters
Possible candidates:
– Mary Murphy, born 1819 – married Edward Morrissey
– James Joseph Murphy, born 1819 – married Eleanor Kiely.
Origins
Pierce Murphy was the son of James Murphy and Mary Morrissey.
Houses and Land
Pierce Murphy
Griffiths Valuation (February 1851) for Ballyknock shows Pierce Murphy with 51 acres of land (a sizeable amount for the time). At this time, Piece and Anne had 6 children living at home, and Anne was pregnant with their eight child John Murphy (his younger brother with the same name had died).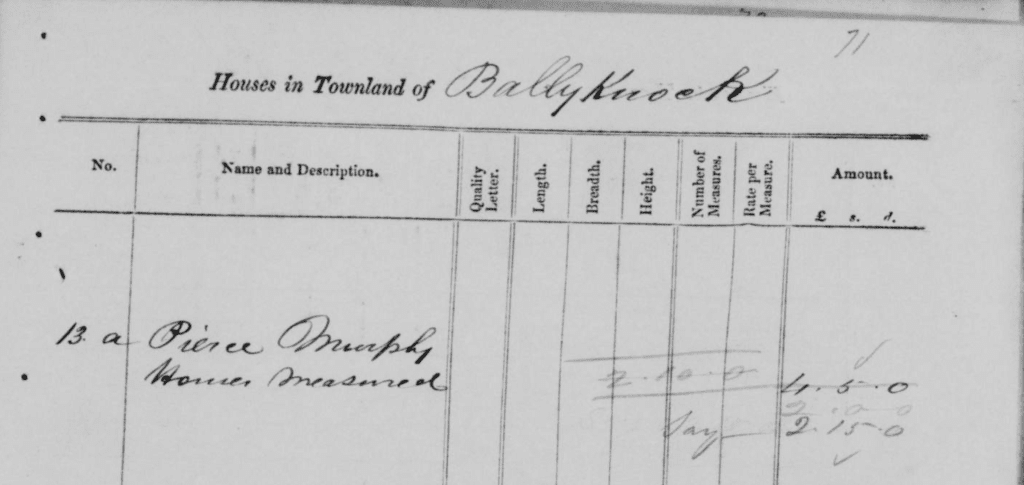 The house and land was numbered "13a". The maps aren't entirely clear as to where that was (several versions with different numbers), but it looks to be south of the road from St. Mullins to Glynn.
Connection to James Joseph Murphy
DNA suggests that we are related to James Joseph Murphy, but we don't know who he is.
My DNA connections:
Meaghan M. > GGM Dora J Murphy (1899) (x Andrew F. Keough) > GGGF Lawrence Murphy (1862) > GGGGF James Joseph Murphy & Eleanor Kiely. 21cM. JN 23cM.
Greg Leing. > GM Dora J Murphy (1899) (x Andrew F. Keough) > GGF Lawrence Murphy (1862) > GGGF James Joseph Murphy & Eleanor Kiely. 21cM. JN 28cM.
Tessa Keough suggests that James Joseph Murphy was a brother of Pierce Murphy. He went out to the US and Pierce stayed in Ireland, but Pierce sent some of his children out. That would mean that the parents of James Joseph Murphy were James Murphy and Mary Morrissy, same as for Pierce.