Just a few years ago, the only thing we knew about Bruno Zee, the founding father of the Zee family, was that he probably came from Germany. Since then, we've found out exactly where he came from (Bollen, near Bremen), that he was a sea-faring adventurer who completed two voyages to Indonesia in the 1720's, and that he was a man with a remarkable story.
Bösche Seekamp and Trine Eggers were his parents.
Bösche Seekamp was born in Bollen, and spent his whole life in the tiny hamlet as a farmer. He married Trine Eggers from Riede – another small village on the other side of the Weser. Together they had 11 children, born between 1687 and 1710. Bruno was the fifth child, and the third son – his older brothers were Johann (b. 1691) and Hinrich (b. 1692).

As was common, the family was of the Lutheran faith. They lived at Hof Nr. 5 (link has more) in Bollen, a farmstead in the centre of the village and also on the dike of the river Weser.
Trine Eggers was the daughter of Hinrich Eggers and Anna Kötgen from Schlieme, near Riede. That's a little hamlet just across the Weser river from Bollen – a stones throw, and just about the closest village to Bollen.
Also in Bollen was Wöbbeke Eggers, born in 1666 in Riede, apparently a sister of Trine's. She married Hinrich Meyer of Hof No. 8 in Bollen in 1686, and they had a son, also Hinrich Meyer, born in 1692, one of five children. Could this be Bruno's friend? Wöbbeke died in 1704, when Hinrich remarried to Ahlke Meyer. He, however died in 1706.
Hinrich Eggers, another sibling of Trine's, was born in 1676 in Schlieme. His first marriage was to Ahlke Meyer in 1707, the same Ahlke above. In other words, Trine's brother married her sisters husbands second wife. Yes, confusing. Ahlke died in February 1708, and in November that year Hinrich was married again to Beke Meyer – no relation of Ahlke's.
Otto Eggers, also a sibling of Trine, married Bösche's sister Beke Seekamp in Arbergen in 1697 [>]
The origins of the Eggers family are a little obscure so far. OFB Ahausen has some info [>].
The Seekamp Family – Bruno & his siblings
Beke Seekamp
Beke was born in 1689 and baptised on January 25th that year. She was Bösche and Trine's first child, born a year or so after they were married. No further information, we can assume she died young.
Johann Hinrich Seekamp
Johann Hinrich was born two years affter Beke, in January 1691. He married Ilse Köhne in Achim in 1714, and the couple settled in Bierden, half an hour or so from Bollen. Her parents were Detmer Köhne and Anna Siems [>]. When her father Detmer died in 1701, her mother Anna married again to Johann Seekamp from Uphusen, but it was not a happy marriage. She had a special clause in the property contract detailing her rights, as she could no longer trust her second husband. He had been violent to her, going as far as to "drag her from her bed and hit her".
Johann Hinrich and Ilse lived at Hof Nr. 6 in Bierden and he lived to be 56. The farm was passed down through the generations to the last direct Seekamp who died in 1918, but remains in the immediate family today. More on the farm here.
Hinrich Seekamp
Hinrich left Bollen and moved to Scharnhorst, near Verden, where he worked as a Halbmeier – a small farmer. He married Anne Glander in Verden in 1728, and the couple had three children – Mette, Ann (born 1730), and Bösche Christian (born 1735). Hinrich died in July 1753, aged 60. His son Bösche Christian married Gesche Rübke, and they had seven children, all born in Scharnhorst.
Anna Seekamp
Anna was the fourth child, born in July 1695. She married Johann Glander, a Müller, in Verden on October 22nd, 1722. Johann was the brother of Anne Glander, who married the above-mentioned Hinrich Seekamp – so it was a case of a Seekamp brother and sister marrying a Glander brother and sister. Anna and Johann lived in Dovemühlen – right next to Scharnhorst, where Hinrich and Anne lived – and raised three children there.
Bruno Zee
Bruno, born of course as Bruno or Brune Seekamp, is the first Zee. He was born in Bollen and baptised in Arbergen on August 27th, 1697.
Otto Seekamp
Bruno's younger brother Otto was born two-and-a-half years later, in March of 1700. Otto lived to be 88 years of age, and died on December 26th, 1788. He spent his life in Bollen as a farmer.
Otto married a local girl, Cathrin Bollman, in 1731. She lived at House No. 10 in Bollen, and was the daughter of Dierck Bollman and Dorothea Meyer. Dierck had been given ownership of the house from her father Hieronymus Meyer in 1711, shortly after they were married, and Cathrin grew up at No. 10; the eldest of four daughters. Otto expected that in due course, the house would be passed on to her. However, in 1738, Dierck decided to pass the house to a son from a previous relationship, who although his eldest child, was in Otto's view illegitimate and should not be entitled to the house. Otto documented his oppostion to the transfer in the local land records, but his complaint was rejected, and it was noted that Otto had received a Brautschatz (dowry) already, and Johann Bollman would remain the new owner.
Otto and Cathrin had six children, but only their first, Cathrine Seekamp, survived into adulthood. She married Götje Elmers. Their other five children all died young: Diedrich Hinrich at four months old in 1735, Bösche at nine months old in 1736, Johann Hinrich at one month in 1739, Margret Anna at just three weeks in 1741, and Daniel at the age of seven in 1749.
Additional to the trauma of losing so many children at a young age, Cathrin herself died in 1747, just 36 years old. For Otto, life had certainly been unkind. He remarried the following year – his second wife was Gesche Meyer from Bierden. She was 47 when they were married, and so no further children were born.
As a wedding gift to his sister Mette, Otto presented her with a Brautwagen when she got married in 1741.

Trine Seekamp
Trine was born in 1702, and married twice. Her first husband was Johann Martens, who she married in 1729 when already pregnant with her first child Margret. She had three more children with Johann before he died in 1733 at just 35 years of age: Cathrine (1730), Gerhard (1732), and Johann (1733).

Her second husband was Hermann Meyer; she married him in October 1734 and had four more children: Gesche (1735), Rebecca (1737), Gerhard (1739), and Johann Hinrich (1740).
Bösche Seekamp (i)
Bösche was christened on January 19th, 1704, but died at the age of three-and-a-half months.
Bösche Seekamp (ii)
The next child was named Bösche again, born in March 1705. He married Becke Seekamp in 1738 – a cousin of his from Uphusen, daughter of Johann Seekamp and Wuebke Claus. Bösche later took over the Farmstead at No. 11 in Bollen. This map from 1744 (from the Zehntkarten, courtesy of Reinhard Dietrich) shows Bösche's farm. Becke and Bösche had five children: Johann (1741-1806), Cathrin (1743-1821), Wübbetha (born 1745), Margreth Anna (1746-1746), and Lüder (1747-1830).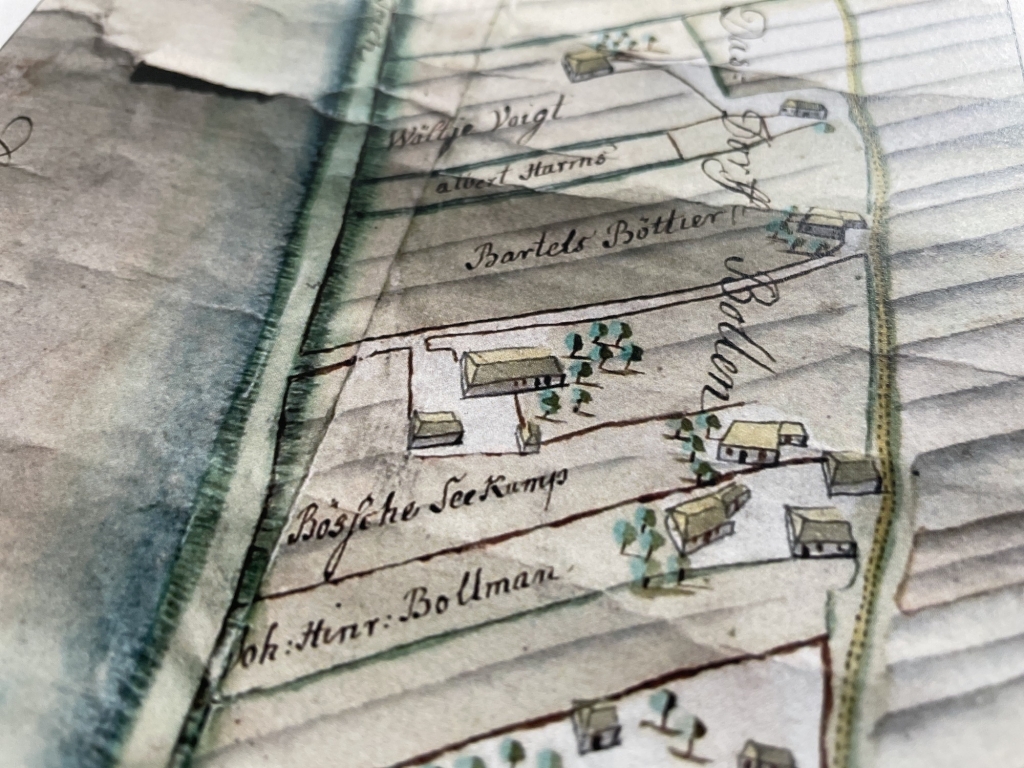 Hof No. 11 eventually passed to Lüder [>], who married Alheit Ahrens in 1768. Lüder and Alheit had only one child that survived into adulthood – Becke Seekamp, born October 29th, 1772 [>] in Bollen and died on October 23rd, 1850. She married Albert Elmers, and their son Lüer Elmers took over the farm in turn.
Daniel Seekamp
Daniel was born in 1707 in Bollen. He married Gretje Seekamp from Hemelingen in 1740.
His wife Gretje Seekamp's story is most unusual. She was the daughter of Johann Seekamp and Gretke Claus from Uphusen. She married not one, but three of her cousins.
Her first marriage was to Arend Seekamp of Hemelingen (parents Albert Seekamp and Anna NN) on January 14th, 1732. Shockingly, he was dead and buried within three days of getting married, on January 17th, 1732 – with no indication in the records to suggest why, but perhaps an over indulgence at the wedding party?
Following her first husbands death, she married again in November of the same year – this time to Harmen Seekamp. Harmen was the son of Wöltje Seekamp and Ahlke Seekamp – yes, her maiden name. This is where it gets even more complex! Ahlke was the sister of Arend that dropped dead after his wedding, and she and husband Wöltje were also cousins.
In other words, her second husband Harmen was her first husband's nephew. The practice of inter-familial marriage seems to have been extremely popular in this circle, as Harmen's sister Anna also married a Seekamp – Detmer Seekamp from Uphusen.
So, Gretje and Harmen had four children. The story would not be complete without adding that of these children, Becke married Johann Seekamp of Hemelingen in 1758 (son of Johann Seekamp (born Bollen) and Wöbbeke Claus), Ahlke married Detmer Seekamp from Uphusen in 1759, and Wübke finally broke the cousin pattern by marrying Johann Martens in 1760.
When Harmen died in 1739, Gretje moved on to her third cousin – Bruno's brother Daniel. They had four children, but none survived into adulthood. Daughter Cathrin was born in 1742 and died a year later, and twins Hermann and Cathrin were born in 1745 but also died the same year. Daniel died in 1784 in Hemelingen, and is buried in Arbergen.
This complicated and intricate weave of matrimony is most likely motivated by landholdings, to try to keep family property "in the family". It makes for complicated genealogy indeed.
Mette Seekamp
Bruno's youngest sister Mette was born in 1710. She married Hinrich Rügge in 1741.
Genealogy
S1 Bösche Seekamp [Brüne Seekamp & Beke Struckhusen]
b 12-Feb-1669 Bollen
+ 13-Jan-1742 Bollen (aged 72) 
x Catharina (Trine) Eggers 04-Dec-1687 Riede
* 28-Mar-1668 Riede 
+ 11-Sep-1734 Bollen (aged 66)

Children:

1. Beke Seekamp            b 25-Jan-1689 Bollen
2. Johann Hinrich Seekamp  b 18-Jan-1691 Bollen   x Ilse Köhn        31-Oct-1714 Achim     +05-Jan-1747 Bierden
3. Hinrich Seekamp         b 30-Dec-1692 Bollen   x Anne Glander     13-Jul-1728 Verden 
4. Anna Seekamp            b 12-Jul-1695 Bollen   x Johann Glander   22-Oct-1722 Verden
5. Bruno Zee               b 27-Aug-1697 Bollen
6. Otto Seekamp            b 14-Mar-1700 Bollen   x (1) Cathrin Bollmann 07-Nov-1731 Arbergen 
                                                  x (2) Gesche Meyer            1748            +26-Dec-1788 Bollen 
7. Trine Seekamp           b 07-Apr-1702 Bollen   x (1) Johann Martens   26-Jan-1729 Arbergen
                                                  x (2) Hermann Meyer    13-Oct-1734 Arbergen   +24-Oct-1757
8. Bösche Seekamp          b 29-Jan-1704 Bollen   + 15-May-1704
9. Bösche Seekamp          b 29-Mar-1705 Bollen   x Witwe Becke Jäger  26-Nov-1738 
10. Daniel Seekamp         b 27-Aug-1707 Bollen   x Gretje Seekamp     30-Jun-1740 Arbergen
11. Mette Seekamp          b 03-Apr-1710 Bollen   x Hinrich Rügge      03-Nov-1741 Arbergen


Timeline
       1714   Bierden Haus Nr. 6: Gutsherr: v. Düring (Embsen). Vergleich zwi. Anna Seekamp, Ehefrau des Johann Seekamp sen., u. dem neuen Wirt Johann Hinrich Seekamp. Derselbe erbringt Kopien des mit seinem Stiefschwiegersohn, auch Johann Seekamp genannt (Bollen), gemachten Vergleiches, nach wirklich vollzogener Hochzeit des damaligen Bräutigams Harmen Böschen (Vater Bösche Seekamp war anwesend) diesen anzuerken- nen u. zu bestätigen, 1714 [> Hoefakten Bierden]

       1741   Otto Seekamp (Bollen Nr. 6 [?]) verspricht seiner Schwester Mette Seekamp bei Verheiratung mit Henrich Rügge (Rieda) einen vollständigen Brautwagen, 1741 [> Hofakten Bollen, Haus Nr. 2]

       1741   Schwiegersohn Otto Seekamp, verheiratet mit der 4. Tochter (3 verstorb.), habe einen Brautschatz bekommen, erhebt aber Anspruch auf die Stelle. Beschwerde des Otto Seekamp, dass sein Schwiegervater Dirk Bollmann seinem unehelichen Sohn die Stelle abgetreten hat, wird abgewiesen, 1740/1741 [> Hofakten Bollen, Haus Nr. 10] Haus 10 - 1738: Meierbrief, Übergang der Stelle von Dieder. Bollmann an Sohn Johann Hinr. Bollmann. 1771: Meierbrief, Übergang der Stelle von Joh. Hinr. Bollmann an Sohn Dierck Bollmann.

  1689-1710   Family of Bösche Seekamp Source: Familienbuch "Früchtenicht Biermann" [>]
			
3461	Bösche Seekamp  «aus 3445» , 1669 Bollen, 12.02.1669 Bremen-Arbergen, 13.01.1742 Bollen, Alter: 72J, 16.01.1742 Bremen-Arbergen, Baumann, LU
  I)	04.12.1687 Riede
 	Catharina Eggers  «aus 966» , 1668 Riede, N: Hof Schlieme, 28.03.1668 Riede, N: Feria 2a Psc.=Ostermtg., 11.09.1734 Bollen, N: Hof Schlieme, Alter: 66J, 15.09.1734 Bremen-Arbergen, Bäuerin, LU
 	Kinder:
 	1)	Beke  , 1689 Bollen, 25.01.1689 Bremen-Arbergen, «3474»
 	2)	Johann Hinrich  , 1691 Bollen, 18.01.1691 Bremen-Arbergen, 05.01.1747 Bierden, 1747 Achim, «3476»
 	3)	Hinrich  , 1692 Bollen, 30.12.1692 Bremen-Arbergen, «3478»
 	4)	Anna  , 1695 Bollen, 12.07.1695 Bremen-Arbergen, «3481»
 	5)	Brüne  , 1697 Bollen, 27.08.1697 Bremen-Arbergen, 16.04.1753, «3483»
 	6)	Otto  , 1700 Bollen, 14.03.1700 Bremen-Arbergen, 26.12.1788 Bollen, 30.12.1788 Bremen-Arbergen, «3486»
 	7)	Trine  , 1702 Bollen, 07.04.1702 Bremen-Arbergen, 24.10.1757 Bremen-Hemelingen, 26.10.1757 Bremen-Arbergen, «2192» «2548»
 	8)	Bösche  , 1704 Bollen, 29.01.1704 Bremen-Arbergen, 1704 Bollen, 15.05.1704 Bremen-Arbergen, «3491»
 	9)	Bösche  , 1705 Bollen, 29.03.1705 Bremen-Arbergen, 25.03.1764 Bollen, 27.03.1764 Bremen-Arbergen, «3492»
 	10)	Daniel  , 1707 Bollen, 27.08.1707 Bremen-Arbergen, «3495»
 	11)	Metje  , 1710 Bollen, 03.04.1710 Bremen-Arbergen, «3500»

       1759  Ehevertrag zwischen Götje Elmers und Trine Seekamp (Väter Detmer Elmers sowie Otto Seekamp [Nr. 6]), Götje Elmers zieht auf die Stelle seiner Frau, 1759 (?). Haus Nr. 2 [HA Bollen]

       1761  Ehevertrag zwischen Joh. Seekamp (Bollen) [Vater Bösche Seekamp] und Witwe des Joh. Meyer, Gesche (Nr. 4), die Witwe hat aus 1. Ehe 3 Kinder: Ahleke (10 J.), Wübke (7 J.), Gesche (3 J.), 1761. Haus Nr. 4 [HA Bollen]

       1690  OFB Verden has further details on first three chilren >

       1692  Hinrich Seekamp, details from OFB Verden. ✶ 30.12.1692 (Taufe) in Bollen bei Achim. †24.06.1753 in Scharnhorst bei Verden. Beruf: Halbmeier in Scharnhorst bei Verden. Begräbnis: 28.06.1753 in Verden 1. Ehegatte: Anne Adelheid Gese Dorothea GLANDER ~ 17.08.1699 in Dovemühlen bei Verden † 09.01.1763 in Scharnhorst bei Verden. Mette Alheit Cathrine Dorthe SEEKAMP ~ in Scharnhorst bei Verden † in Verden. Ann Catharina Dorothea SEEKAMP ✶ berechnet Juli 1730 in Scharnhorst bei Verden ▭ 11.02.1781 in Süderwalsede. Bösche Christian SEEKAMP ✶ 03.03.1735 in Scharnhorst bei Verden † 13.03.1803 in Scharnhorst bei Verden. [>]
Documents