Brüne was the grandfather of Bruno Zee. He was born in 1641 in Bollen, and died there in 1717.
Family
Brüne Seekamp and Beke Struckhusen lived in the hamlet of Bollen, and were farmers. They had three children – Bösche, Beke, and Gesche, and a fourth child that died at birth.
Bösche Seekamp, the eldest child, was born in 1669. He married Trine Eggers and was Bruno Zee's father. Beke Seekamp, born 1671, married Otto Eggers, a brother of Trine's. Gesche Seekamp, born 1676, married Hinrich Wülbers in 1701 in Riede, son of Hinrich Wülbers. A fourth child was stillborn in 1674.
Beke Struckhusen was born in Bollen, the first born child of Bösche Struckhusen and his wife Anna. There were three children in the family; her brother Bösche was born c. 1636 and married Alcke Claus from Hemelingen on August 12th, 1666, and her sister Alcke born c. 1637 married Hinrich Claus on the same day – a double wedding. The following year her father Bösche died – on March 14th, 1667 – and so the farm passed to her. She married Brüne Seekamp on April 9th, 1668, and Hof Number 5 in Bollen became the Seekamp family home.
The move to Bollen
Brüne Seekamp was born in Bierden (about an hours walk away from Bollen, or maybe 25 minutes with horse and cart), but with his marriage to Beke Struckhusen in 1668, he became the resident and owner of Hof Nr.5 in Bollen at the age of 27. From this point forward, our ancestors lived here.
Bollen is largely unchanged today in terms of population – about 200 people live here now. It's a regular village with an unusual location – right on the banks of the river Weser, with a dike presenting some protection from the highest water levels. As such, the village runs along the banks of the river with houses sequenced in a long row.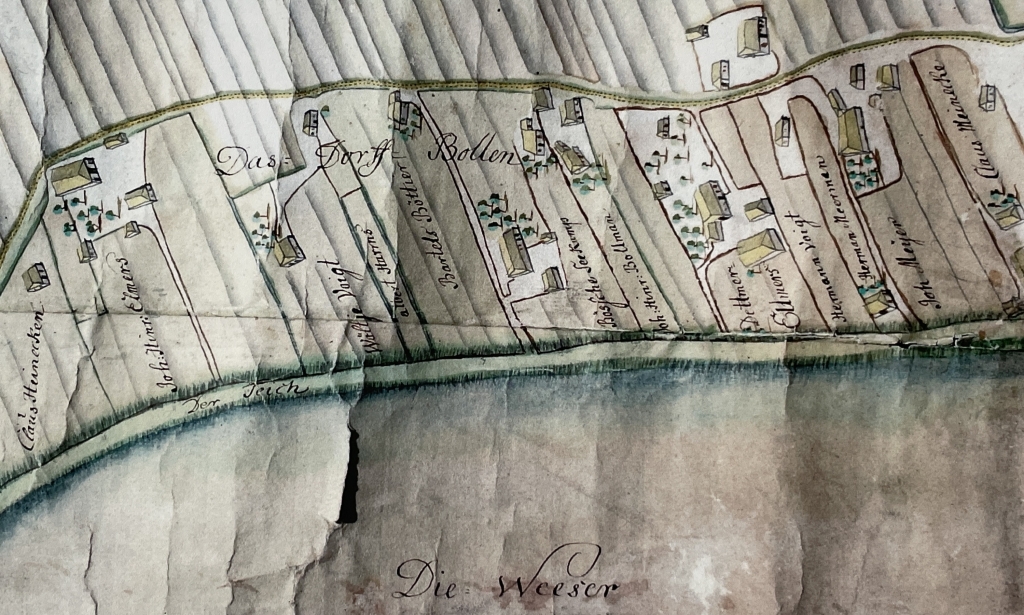 Hof No. 5
Source: Reinhard Dietrich
Although the residents of Bollen were to a large extent classless – everyone was involved in farming to some degree – there were different categories of farms. The larger landholders were known as Bauer (farmers), whose homesteads were Bauernhöfen, and the smaller were Köthner – subsistence famers with just enough space to grown their own produce, but not much more.
Hof No. 5 was one of around 20 homes in Bollen in the 1600's. Early records on the ownership of the homestead are patchy, but a 1647 entry in the Landbeschreibung records show the owner as Harmen Struckhusen, who had a 1 room house, 2 horses, and 2 cows. The year is significant as it is at the very end of the 30 years war, a conflict that devestated Germany. Harmen was the grandfather of Beke.
In the Schatzbeschreibung from 1635, the owner is listed as Arndt Struckhusen, though apparently no house existed at this time – perhaps as a result of the war.
Interestingly, a further generation back, the owner is one Brüne Seekamp, who is documented as the landowner in 1571, 1576-1595, 1600-1601, and 1610. The 1610 Landschatz-Liste describes the property comprising of 6 room house, 6 horses, 2 foals, 5 cows, 4 bullocks, and 4 pigs. In 1602 a tax became payable to the Bremen Bishop Johann Friedrich, and all persons on the property were documented. At Hof Nr. 5, 3 people are listed: Brüne Seekamp, his wife, and his mother. The source suggests Brüne was born in 1545 and died in 1610. By 1625, the owner is listed as Johan Meyer.
Prior to Brüne Seekamp, the owner is listed as Johann Seekamp, mentioned in 1534, 1535, 1548, 1557, 1562, and 1563-1566. The earliest record of the homestead is from 1535, and tells us that Johann Seekamp had a house and contents ("Scheune, Schuppen, Spieker, Hausgerät und Korn") with a total value of 132 Gulden and 24 Grote. His livestock included 11 Horses, 2 yearlings, 2 foals, 14 cows, 4 bullocks, 2 bulls, 3 calfs, 15 pigs, 2 sows, 8 piglets, and 2 beehives. His total worth was 254 Gulden and 6 Grote. Certainly a sizeable landholding for the place and time.
It seems likely that Brüne was Johann's son, but further genealogy is required to connect these Seekamps to our direct ancestors.
The Hof was passed on to Brüne and Beke's son Bösche Seekamp and his wife Trine Eggers, Bruno Zee's father and mother.
Looking at the overall history of No. 5 in Bollen then, it was initially in the hands of the very early Seekamps (at least from 1535 onwards) – and for a period not – then Brüne Seekamp came from Bierden and restored the farm into the Seekamp family again through his marriage to Beke Struckhusen. It would be interesting to see if indeed the "Bierden Seekamps" came from No. 5 in Bollen orginally, and then returned.
Genealogy
S2 Brüne Seekamp 
b        1641 Bollen [Wöltje Seekamp & Gesche Dahlweg]
+ 08-Mar-1717 Bollen (aged 76) 
x Beke Struckhusen 09-Apr-1668 Arbergen
*        1634 Bollen [Bösche Struckhusen & Anna NN]
+ 02-Jan-1704 Bollen (aged 70)


Children:

1. Bösche   b. 12-Feb-1669 Bollen    x Trine Eggers
2. Beke     b. 12-Jun-1671 Bollen    x Otto Eggers 18-Nov-1697 Arbergen 
3. NN       b. 29-Apr-1674 Bollen    + 29-Apr-1674 [stillborn]
4. Gesche   b. 29-Sep-1676 Bollen    x Hinrich Wülbers 24-Nov-1701 Riede


Documents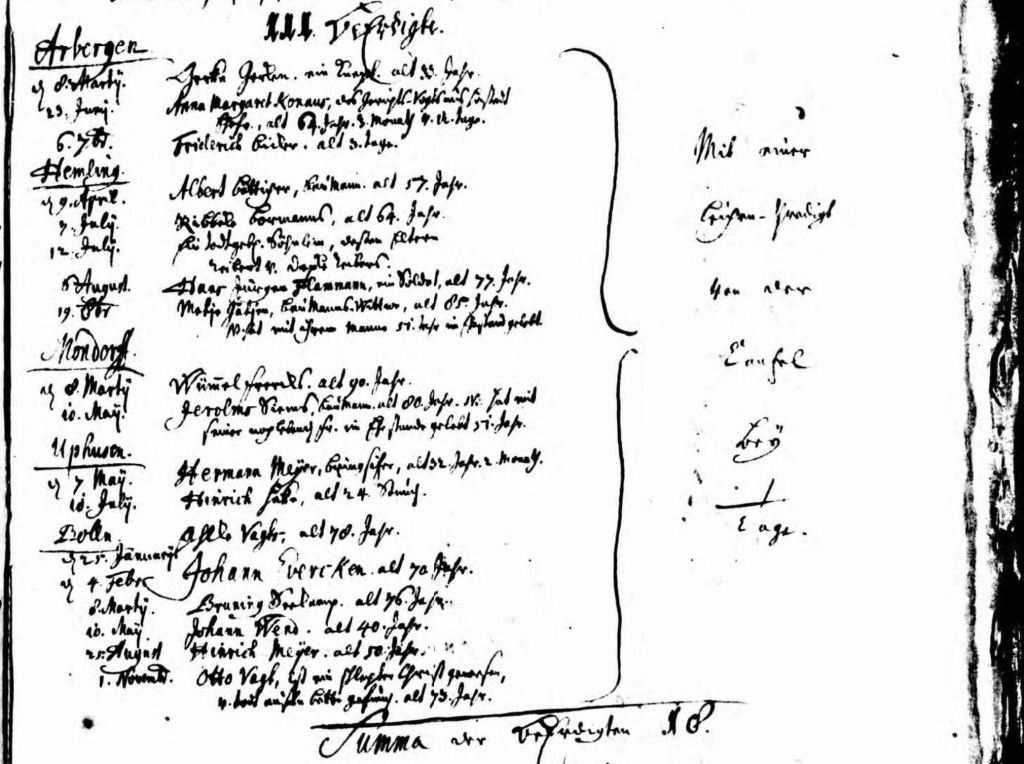 Timeline
1641 Birth of Bösche - calculated from burial record.

1668 Marriage of Bösche and Beke in Arbergen. 

1675 In der Landmilizrolle von 1675 wird als Knecht Johann Bartels geführt. Johann Bartels heiratet am 04.11.1686 Hibbel Warners und wird somit Kötner (siehe Höfe-Nr. 16, Folge 4). [Hof Nr. 5, R. Dietrich notes]